Coronavirus (COVID-19) and how to protect your Health and Wealth with Checklist
Even if you have been under a rock the last week, I am sure you would have heard about COVID-19  aka coronavirus or nCov19. While most of Personal Finance twitter is focused on the stock and bond market; it is better to first consider the implications wrt Health and Politics before delving into Finances.
[bctt tweet="As long as you are healthy and have a stable functioning government; the financial aspect of COVID-19 will take care of itself. #COVID-19 #coronavirus " username="FFCsocial"]
I started tracking coronavirus since early January as I had a trip booked to China in June. My friends in China kept me updated as the situation unfolded; and you could see the stark difference between the official media coverage and the ground reality.
I cancelled my flights in January; but by then I was too deep down the rabbit hole of reading everything I could get my hands on.
As the days passed, it became apparent that the unofficial sources had a better grasp of the situation. 
Meanwhile the narrative in rest of the world still continued with "Flu kills more people. Do not worry". I published a Facebook post and concluded that the rest of the world had enough notice to get prepared.
Boy, was I wrong!
For better or worse, we now have to make the best of the current situation. 
All risks are not equal. We often hear that "Ebola is causing fewer deaths than people drowning in their bathtubs," or something of the sort, based on "evidence." This is another class of problems that your grandmother can get, but the semi-educated cannot. Never compare a multiplicative, systemic, and fat-tailed risk to a non-multiplicative, idiosyncratic, and thin-tailed one.

– Nassim Nicholas Taleb
The crisis spiraled out of control in China due to bureaucrats wanting to look good and not let the medical teams do their job. We are now facing a similar situation in USA with Pence controlling all messaging instead of letting the health officials directly communicate with the public.
Failure of WHO
Compared to previous pandemics; the WHO has exacerbated the problem with their handling of the Coronavirus epidemic. As I indicated in my Facebook post, playing second fiddle to CCP caused nCov19 to spiral out of control. 
Instead of letting experts run the show; the Director General is opining on the stock markets "WHO chief on coronavirus: Global markets 'should calm down and try to see the reality"
Let us also not forget that Dr. Tedros is a political appointee and has a reputation of covering epidemics in his own backyard.
WHO Director General failed us all by pushing the CCP agenda and 
Not advising travel restrictions in and out of China as soon as Coronavirus erupted.
Not calling out China on the fake data in the early days although WHO doctors in Hong Kong published a Lancet study refuting the same.  
Even to this day WHO refuses to call it a pandemic. I am not sure if their reluctance is linked to the payout of World Bank Pandemic bond; but it is what it is. 
Failure of Governments
From China to Thailand to Iran to Italy to USA; there is a lot to blame.
China never let the international team inspect the site and kept changing the method for counting infections. The current data is still suspect.
Thailand to this day claims low number of cases. With 3M tourists over the Chinese New Year; this seems quite improbable. I guess tourism is more important than the health of their citizens.
Iran has clerics refusing to close down the religious shrines. Some pro-regime people are in fact licking the shrine and encouraging others to follow suit. 
The tiny country of South Korea now seems to have gotten a better handle on things and has conducted 80,000 COVID-19 tests.
Meanwhile the US has less than 500 tests conducted till date. I sincerely hope the US is not following Thailand in the "Don't Test; Don't Count" approach.
Of all the countries in the world, Singapore has done the best job in not only developing rapidly the antibody test; but also contact tracing everyone and effective quarantine and treatment. Since the 2003 SARS outbreak, Singapore's advances in virus research, improved agency tie-ups, and decisive action by officials have equipped it to better battle the Coronavirus.
Here is the Singapore's dashboard which indicates how serious they are about their citizen's health and their efficient operation.
Failure of CDC
The incompetence of the CDC is mildly frustrating. I am not just talking about the testing kits not working; but also the narrow definition the CDC imposed wrt testing. To this day, CDC insists on 2-14 day incubation period while data around the world has indicated it could be as long as 21 days.  Most of the quarantined folks were let out and color me surprised if some of them do test positive later.
A patient at the UC Davis medical center who arrived on Feb 19, was not tested till Feb 23rd since the patient did not fit the existing CDC criteria.
There are tons of stories in Brooklyn and even in the Bay Area where despite showing symptoms and visiting some of the affected regions, CDC did not test the individuals.
Also the CDC has mistakenly released a patient from the Texas Center for Infectious Disease whose test later came back positive for COVID-19.
Elections
Given that this is an election year; I expect both sides will be involved with politicizing the epidemic.
The Coronavirus will expose a mass swath of people who do not have insurance and hence will move to the left. Cost of PCR test in China is $6-$23 per test. $3,000 per test in the US means a lot of individuals even with insurance would skip it to avoid paying their deductible.
On the other hand, travel bans and moving global supply chains back to the US will be used by the right to push their agenda. Effective handling of the pandemic will be a litmus test for the current administration. 
Currently there is no vaccine or even a cure. Different governments have experimented with a variety of medications and in fact, China which has borne the brunt of COVID-19 has several different treatment regiments in the field. Most of the serious cases land up in ICU and we know that COVID-19 attacks the immune system and respiratory system. 
Remember there is a lot wrt COVID-19 that even medical professionals do not know. Viruses constantly mutate and change. Generally the mutation is such that it favors rapid spread. Best case scenario is that the strain which spreads rapidly is also less lethal. 
There have been numerous instances of cured individuals getting infected again. This is not like other viral infections where you obtain immunity after being sick. The cytokine storm is supposed to be deadly the second time around. 
The WHO published report mentions clearly that symptoms of COVID-19 are non-specific and the disease presentation can range from no symptoms (asymptomatic) to severe pneumonia and death.
What is most worrying; is that the fall season might result in more severe cases around the world. The Spanish Flu had 3 waves. 
[bctt tweet="There were 3 different waves of illness during the Spanish Flu. The highly fatal second wave in the fall of 1918 was responsible for most of the U.S. deaths attributed to the pandemic. #COVID-19 #coronavirus" username="FFCsocial"]
Prevention
CDC has a page wrt prevention containing a lot of the usual flu recommendations. Hoping it is updated with more concrete guidelines in the coming days.
Self care
The biggest challenge is when cases explode exponentially due nature of infection. Hospitals will become overwhelmed. ICUs have hardly any spare capacity and most folks need to roll the dice wrt being treated. 
5 days ago, the Italian ministry to health said "no problem with hospital beds". Less than a week later Northern Italy is grappling with the fact that 1 in 11 patients lands up in the ICU and there are now not enough beds.
It is not improbable to assume one of your family members will be infected and the hospitals assuming mild asymptomatic condition; expect you to care for them in your house.
As a result of blatant incompetence all around; we must now all be prepared that someone we know will be infected with the Coronavirus.
This is the list of items I have personally stocked up. This is my personal shopping list and should not be considered medical advice in any form. You should discuss with a licensed medical professional before taking anything in this list.
Hand Soap. Wash hands frequently and for a least 20 secs each time.
Disinfecting Wipes.The virus survives for 9 days on surfaces so lots of cleaning supplies needed.
Toilet Paper . We saw what happened in Hong Kong so better be prepared
Nitrile gloves. Wear them at all times when caring for someone at home. Single use so discard as soon as done.
Pulse Oximeter. Go immediately to the hospital if oxygen saturation less than 90% even if asymptomatic.
UV Sanitizer. Stay away from device when operational.
Whey Protein. Assume quarantine and you need food. Hard to store protein sources such as raw meat. Plus this flavor tastes like ice-cream.
Oats as a source of Carbohydrates and fiber. Stores easily. 
Nuts as a source of healthy fats. Also a great snack.
Emergency Bag contains a number of common items which can also be used in case of earthquakes or hurricanes.
I have seen some studies on efficacy of ZMA,  CoQ10,  Quercetin with Bromelain,  Vitamin C, Vitamin D3, N Acetyl-Cysteine,
The gyrations of the stock and bond market should not be your main focus. However now is not a bad time to assess and take stock of your financial health.
Emergency Fund
Look at your emergency fund and make sure it covers at least a year of expense. The economy will take a hit and I anticipate higher unemployment. Although the 10 yr has plunged; you can still earn over 8% risk free return on your emergency fund. No excuse not to fund it.
Risk Tolerance
I would be lying if I said that losing money doesn't suck. 
To be honest, while the drop has been in the news; it is not significant at all. We dropped 50% from 2000-2002 and dropped 57% from 2007-2009. 
[bctt tweet="If this 5% drop has made you lose sleep; it is a good time to assess your risk tolerance. #COVID-19 #coronavirus " username="FFCsocial"]
I looked at my Personal Capital Dashboard.
Sign up for free and go to Planning—> Investment Checkup. Here is my current Efficient Frontier neatly mapped out.
The recommendation I received was to increase bonds. However I have a rental income which acts like a bond so I am good with how things stand.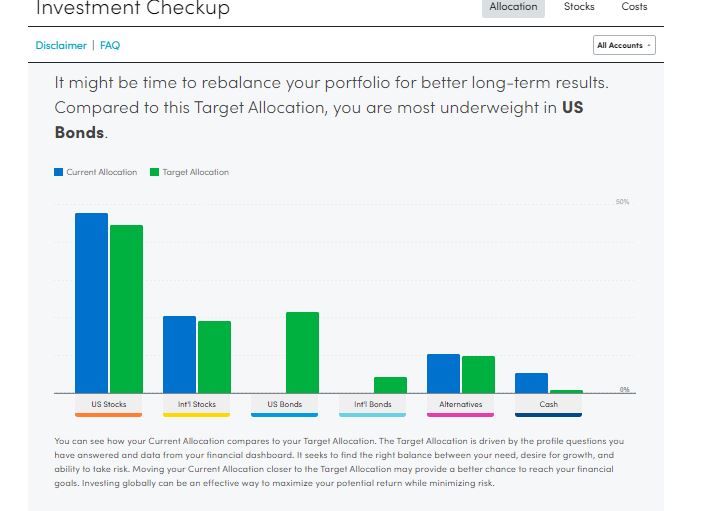 I do expect markets to be a lot lower when the death toll across the US and rest of the world increases. So make sure you sign up and figure out your risk tolerance. Better to re-balance now v/s panic when the market drop another 20% and sell lower. 
Picking individual stocks
Everyone loves to pick individual stocks. Heck, I have my own Moonshot fund and also documented my 4 worst investments.
Resist the urge to pick individual stocks though since it can be tempting to assume airlines and cruise ships will lose revenue. They could lose a lot more or in hindsight be a bargain. Only a time traveler would know this with certainty. Similar situation for people assuming if Netflix does well or McDonalds no longer has clients.
Since the COVID-19 information is publicly known, it is hard for an average investor to find an edge.  Continue investing during these times based on your previously determined asset allocation and risk tolerance.
Dollar cost averaging using the same amounts to buy during market highs and lows along with re-balancing produces the best results. I continue to use M1 Finance as the perfect investment platform to achieve this with zero fees and low minimums.
Summary
Readers, focus on your health and those of your loved ones. We will all get though this but it never hurts to be prepared for the worst outcome.
How confident are you in your local, state and federal governments? What is the level of your personal preparedness and anything more we should be thinking about?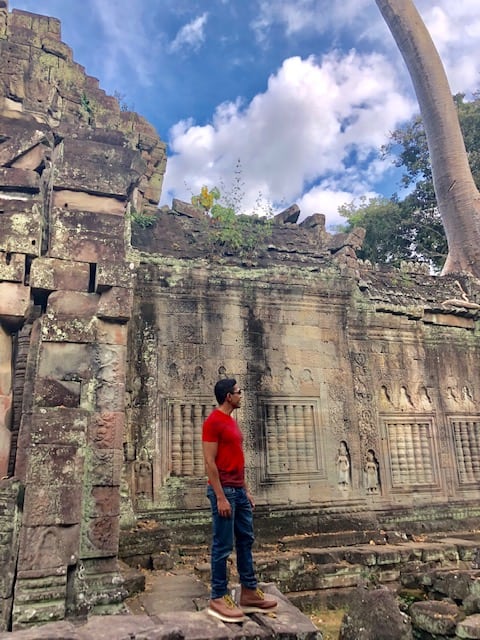 John Dealbreuin came from a third world country to the US with only $1,000 not knowing anyone; guided by an immigrant dream. In 12 years, he achieved his retirement number.
He started Financial Freedom Countdown to help everyone think differently about their financial challenges and live their best lives. John resides in the San Francisco Bay Area enjoying nature trails and weight training.
Here are his recommended tools
M1 Finance: John compared M1 Finance against Vanguard, Schwab, Fidelity, Wealthfront and Betterment to find the perfect investment platform. He uses it due to zero fees, very low minimums, automated investment with automatic rebalancing. The pre-built asset allocations and fractional shares helps one get started right away.
Personal Capital: This is a free tool John uses to track his net worth on a regular basis and as a retirement planner. It also alerts him wrt hidden fees and has a budget tracker included.
Streitwise is available for accredited and non-accredited investors. They have one of the lowest fees and high "skin in the game," with over $5M of capital invested by founders in the deals. It is also open to foreign/non-USA investor. Minimum investment is $5,000.
Platforms like Yieldstreet provide investment options in art, legal, structured notes, venture capital, etc. They also have fixed-income portfolios spread across multiple asset classes with a single investment with low minimums of $10,000.