How To Improve Human Capital And Accelerate Financial Freedom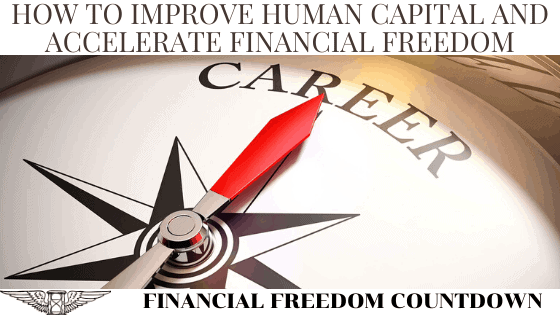 If I ask you to name your biggest asset what would top the list?
Many home owners in a high cost-of-living area would mention their home.
Some would log into their Personal Capital account and mention their investments.
A few landlords would tout their cash flowing real estate syndications .
A minority would mention their fancy car. I am hoping in that case it is at least a Lamborghini 😛
Did any of you mention your own Human Capital?
Personally, I would rank my human capital over every other income-producing asset I own.
What Is Human Capital?
Human capital is the present value of all future wages. We go to work every day and are paid wages. The sum of those wages is our Human Capital. Over a lifetime, our total Human Capital would range anywhere from $5M to $50M.
When we start young, we have only Human Capital on our balance sheet – no houses, investments, savings or fancy cars. As we begin to earn more and invest, we will reach a crossover point where our income-producing assets generate more than our human capital. That is the point at which you are truly free.
Example of a college graduate leveraging Human Capital
Consider Sam who lands her first job at 25.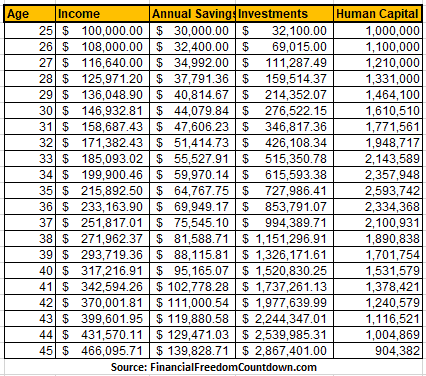 The assumptions used in creating this example are:
8% annual increment. You may not receive 8% every year; but switching jobs regularly to make sure you get paid above market value will lend to this average.
Savings are estimated at a conservative 30% although one could ratchet this up and avoid lifestyle creep to accelerate your Financial Freedom Countdown.
7% is used for annual investment growth. Make sure you learn how to invest wisely which automates everything and charges no fees
These dollar amounts are higher than average net worth by age, because we are talking about accelerating Financial Freedom.
Feel free to use the template and change based on your own assumptions.
Age 25 to 35
The table shows we start our journey with a negligible investment balance cause most college students do not have any money. I sure remember being a broke college student. On the other hand, our Human Capital is larger because of
Our enthusiasm for contributing meaningfully to society.
Higher energy and ability to work harder due to our young age.
More time to devote to our careers due to lower family commitments.
Remember that even if you have no talent, you can always outwork your competition.

Our investments keep growing as we earn more, save more and invest wisely. Our Human Capital also keeps growing as we progress in our careers, acquire new skills and build networks which would propel us even further in terms of our day jobs and side hustles.
Age 35 to 40
After 10 years of working you realize that your nest egg has grown much larger than you had anticipated thanks to the magic of compounding. This assumes you have saved diligently and invested in a wise manner. The decade of grind begins to take a toll on you.
You are no longer starry-eyed drinking the Kool-Aid dished out by the corporations. The reality of office politics sets in. You realize at this point that you no longer need to grind hard.
All those seeds you planted to grow your career will soon pay dividends.
You can ease your foot off the gas pedal and cruise along enjoying the scenery. This milestone will also coincide with several significant events in your life; whether it is your parent's health scare or meeting someone in your life worth spending more time with.
As a result, you no longer need to chase after the next annual performance review and bonus. You no longer need to keep switching jobs every 4 years adding more responsibilities to your plate. You consciously let your Human Capital begin to decline after a decade of upswing.
Age 40 onwards
Even after letting your Human Capital decline; the start you had in terms of managing your career in the initial decade, will help you reach your freedom number in less than 1-2 years.
The graph below illustrates the cross over point at which; you can at least live a comfortable lifestyle and not worry about the stress of job reviews or the next round of layoffs. This crossover point is your Countdown to Financial Freedom.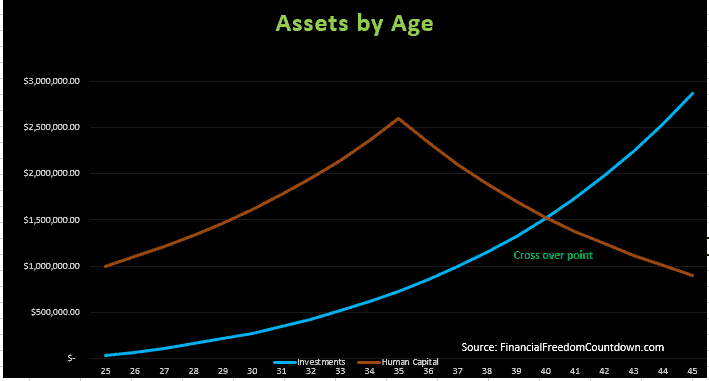 Please note that the salary, income and age ranges are only provided as an example for you to follow along and understand the math of how all this works out.
Life is not without surprises and will never go as planned. There will be speedbumps or even roadblocks along the way. Each of you would need to navigate and figure out the best course of action for your own personal path.
How To Improve Your Human Capital
The best way to improve your Human Capital is by investing in yourself. Here are 6 ways to accomplish this goal.
Learn New Skills
You need to make yourself more valuable at work and stand out among your competition by improving your high-income skills. While your college major would have provided you with the technical skills needed; what is often overlooked is the soft skills needed to survive and thrive at work. Even if you decided to travel off the beaten path when choosing your major, learning new skills always helps with getting a raise.
You need to either be self-aware of your short comings in this area or seek advice from others.
Do not ask your family or friends because they don't want to hurt your feelings and will always mention that you are a great person who doesn't need to change anything. That is just the nature of friendship.
You should ask someone at work who has a chance to observe you and is brutally honest about providing feedback.
You can also look at your own responsibilities and see what tasks you hate the most. If you avoid presenting at meetings then that is your cue for a skill to be improved.
If you dislike negotiating with vendors then you know what area you need to focus going forward. Influencing, Negotiations, Sales and Communication are the ones you need to keep improving.
Add value outside of your team
Besides making sure you are considered valuable to your boss and team it is equally important to make sure you are well liked by other individuals outside of your team. In every organization for bonus or promotion discussions; your boss makes recommendations for individuals who went above and beyond.
Wouldn't it be great to also have someone else advocating for your raise or promotion. How much more weight would that recommendation carry when it is a peer of your boss!
Ask for that promotion
If you do not place a high value on your work; it is unreasonable to expect anyone else to also value your work. Gone are the days when you do a great job and expect someone will notice and reward you for it.
The best time to ask for a promotion is at least a year in advance. This ensures that your boss is well aware of your ambitions and can work with you on drafting your career goals.
Go ahead and enlist the help of your boss in highlighting your areas of improvement and a method to track and measure progress towards improvement. The plan should have measurable and quantifiable data to track along with dates.
Make sure you get this plan drafted and recorded (via email or in your company provided tool) in case your boss decides to quit or is let go before you. Review this plan periodically and update it along with recording progress in tacking the areas necessary for your promotion.
Use your 1:1 time for this explicit purpose. And if your boss has not setup regular 1:1 make sure you take charge and schedule it. Do not be apprehensive in having this conversation with your boss or enlisting his/her help in drafting your plan.
Your boss is getting paid to manage individuals reporting to them and it is part of their job responsibility! I've had the misfortune of working for several first-time managers who would utilize my 1:1s for routine work updates unless I steered them to this difficult but necessary career conversation.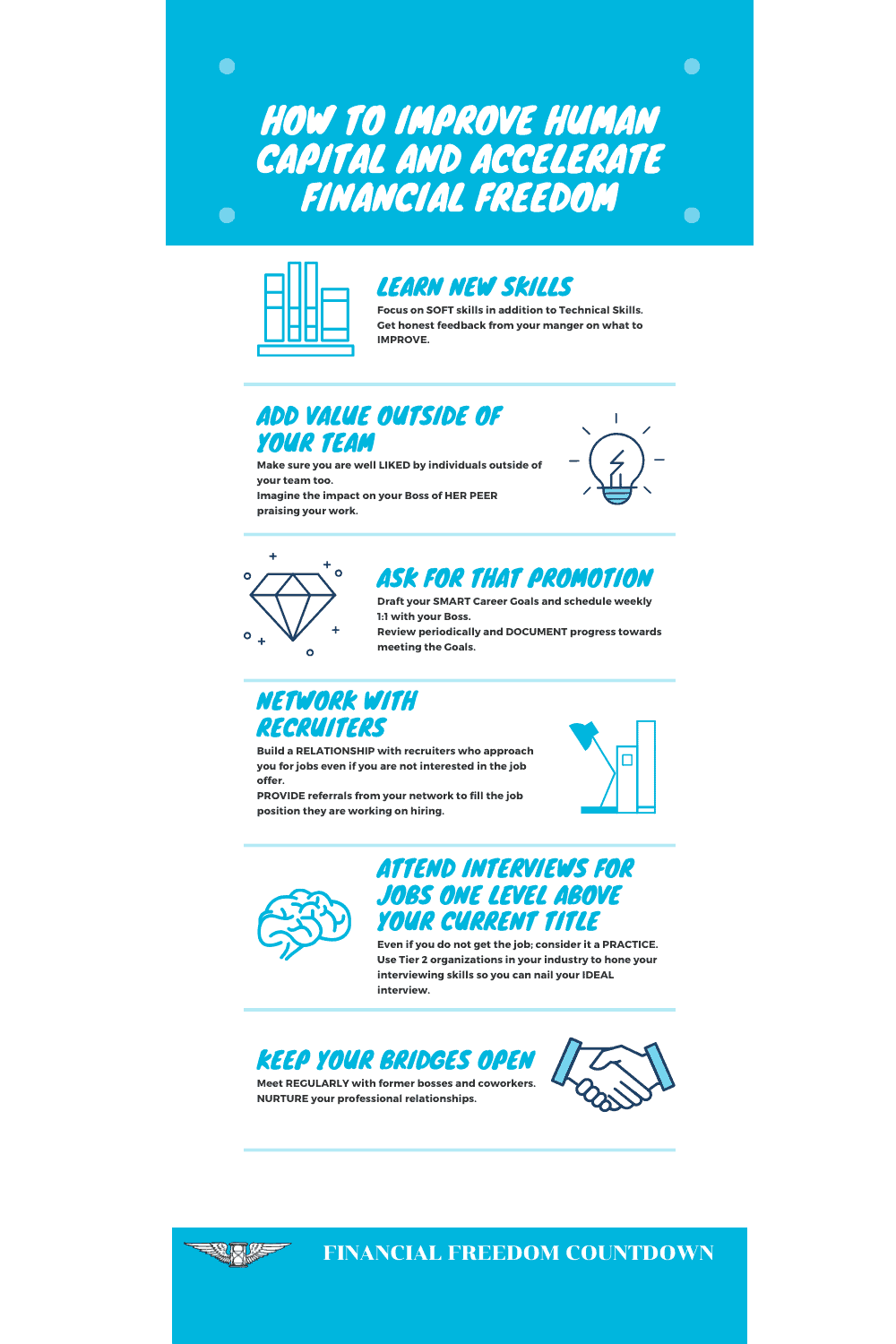 Network with recruiters
Build a relationship with recruiters who approach you for jobs even if you are not interested in the job offer. Provide referrals from your network to fill the job position they are working on hiring. This is a win-win for everyone involved.
Your friends/colleagues will appreciate you steering the recruiter to them. The recruiter gets an additional candidate to present to the hiring manager and will rely on you as an industry expert.
Over a period of time you can reach out to them when hiring for the next level. Even if they are not hiring for the exact role you are interested in, they can forward your resume to the appropriate recruiter or hiring manager.  Recruiters are the most well-connected individuals so don't be surprised in you find your recruiter has contacts in your favorite company.
Data from the Federal Reserve Bank of Atlanta indicates how a job switcher always gets paid more than a person who stays at their job.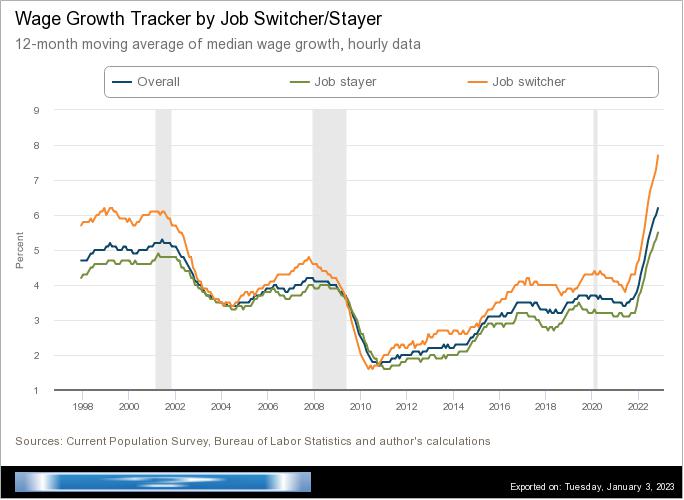 Attend interviews for jobs one level above your current title
Even if you do not get the job you interviewed; consider it a practice. And we all know Practice makes Perfect
You obviously don't want to start with the company top of your list but look at their competitors or tier 2 companies. Use those organizations to hone your interviewing skills.
Keep your bridges open
Meet regularly with former bosses and coworkers. Nurture your professional relationships. Often the best increases in salary come from switching jobs. Make sure you block Friday lunch for catching-up with folks who are no longer with your organization.
The best-selling book Never Eat Alone by Keith Ferrazi highlights the power of relationships. I am assuming your former managers and coworkers enjoyed working with you and would be glad to have you as part of their team.
Often there are non-compete clauses in place for the first 6-12 months when your former manager starts working. That is why you need to express interest and keep the connection warm till they can get you on-board.
One of the best books which illustrates this concept is The Start-up of You by Reid Hoffman, the cofounder of LinkedIn and Netflix. Every time I read it; I always come up with new insights to apply not just to my professional life, but also personal life
[bctt tweet="Human Capital is the biggest asset you have. Invest in YOURSELF"]
Summary

The bedrock of this plan is based on choosing the right major for college. There are paths to achieve a similar result even if you do not have the coveted major; but it will be long winded and filled with challenges. Ideally you should pivot in this direction sooner rather than later and allow the magic of compounding your career choice and investments work for you. Also, you should make sure to provide this guidance to people younger than you. This will ensure that they have a path set for them which can lead to a higher probability of success.
Most blogs preach coupons, biking and skipping coffee which does nothing to get you closer to your freedom number quicker. While being diligent on major fixed costs helps; you have to always focus on turbo-charging your income.
One of Warren Buffett's famous quote is , "The best investment you can make is always in yourself". This investment "you can't beat, can't be taxed and not even inflation can take away from you"
What steps will you take today to improve your Human Capital? Are there some actions which worked better for you and what would you have done differently?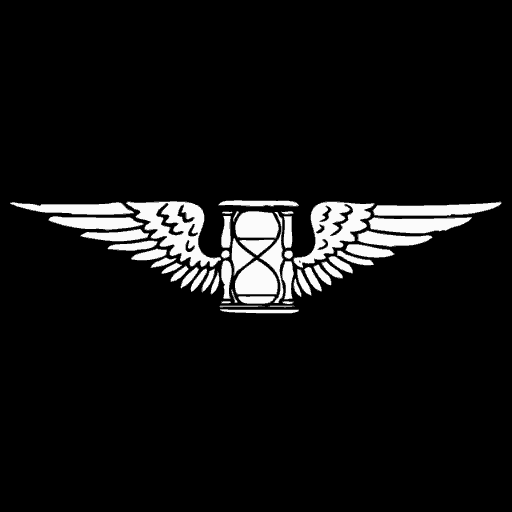 John Dealbreuin came from a third world country to the US with only $1,000 not knowing anyone; guided by an immigrant dream. In 12 years, he achieved his retirement number.
He started Financial Freedom Countdown to help everyone think differently about their financial challenges and live their best lives. John resides in the San Francisco Bay Area enjoying nature trails and weight training.
Here are his recommended tools
M1 Finance: John compared M1 Finance against Vanguard, Schwab, Fidelity, Wealthfront and Betterment to find the perfect investment platform. He uses it due to zero fees, very low minimums, automated investment with automatic rebalancing. The pre-built asset allocations and fractional shares helps one get started right away.
Personal Capital: This is a free tool John uses to track his net worth on a regular basis and as a retirement planner. It also alerts him wrt hidden fees and has a budget tracker included.
Streitwise is available for accredited and non-accredited investors. They have one of the lowest fees and high "skin in the game," with over $5M of capital invested by founders in the deals. It is also open to foreign/non-USA investor. Minimum investment is $5,000.
Platforms like Yieldstreet provide investment options in art, legal, structured notes, venture capital, etc. They also have fixed-income portfolios spread across multiple asset classes with a single investment with low minimums of $10,000.