Is San Francisco Real Estate Still A Good Investment?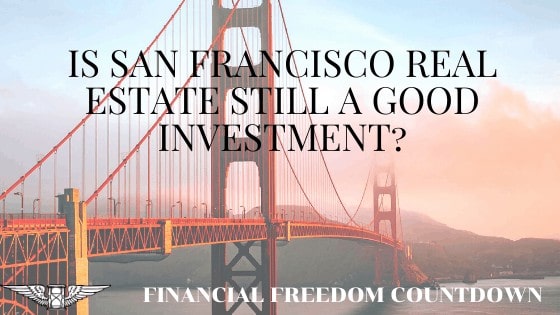 One of my goals with the Cash Out Refinance was to buy a distressed house at a lower price. While waiting for the fat pitch, a couple of changes have since occurred with the COVID-19 situation. Based on the new information; I am reconsidering my next steps. Is San Francisco Real Estate still a good investment? And is now the right time to buy a house in San Francisco considering the impact of technology companies offering work from home option?
Although this post focuses on San Francisco; most of the analysis can be applied to larger cities such as NYC, Seattle, Boston, etc.
San Francisco Home Price Appreciation
While home prices typically keep pace with inflation, the meteoric rise in San Francisco home prices has outpaced even the most optimistic expectations. Similar situation has played out globally for Real Estate in Tier 1 cities. Easy monetary policy by central banks is one of the causes for asset price inflation.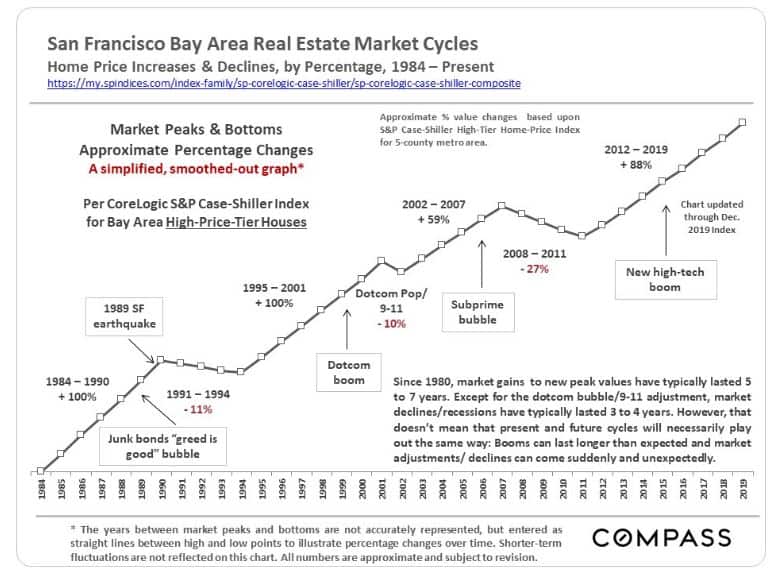 Working From Home Permanently
Jack Dorsey fired the first salvo, offering Twitter employees the option to permanently work from home. This was followed a few days later; by a similar announcement for Square.
"We want employees to be able to work where they feel most creative and productive. Moving forward, Squares will be able to work from home permanently, even once offices begin to reopen"

Square announcement
As a result of his various philanthropic activities, Jack is the most admired CEO in Silicon Valley. Naturally, other firms followed suit.
As soon as several companies began offering the option to work from home permanently; employees considered the arbitrage opportunity. Continue to earn the high Silicon Valley salaries; but relocate to a cheaper location and pocket the difference.
As per Business Insider, a survey of thousands of SF Bay Area techies found that 2 out of 3 would consider leaving if they could permanently work remotely
Effect of Work From Home on the San Francisco Real Estate
A slew of articles followed, painting a dire picture of the San Francisco housing market. The gist of these articles was
Technology firms moving to a remote working environment would lower the salaries by having the option of hiring workers in different geographies. As a result, the technology premium of salaries would reduce and consequently the rent and home affordability would drop.
With companies being fully remote; they would no longer need to occupy office space in San Francisco and could setup headquarters in other geographies.
Challenges of San Francisco
In the last decade, San Francisco has gotten bad to worse. I'll be the first to admit this unfortunate fact.
Still Bullish On San Francisco Real Estate
Inspite of all the above mentioned issues; I am still bullish on the San Francisco Bay Area. We may not see the astronomical price increases; but I would not expect a substantial drop in value either.
Startups
Anyone who talks about remote work; has never worked in a startup environment. In the early days of founding a company; it requires almost a 24*7 dedication to working on several issues all at once with everyone pitching in, irrespective of their high-income skills.
There are no defined roles and responsibilities or procedural manuals to be followed. Burn rate is critical and any delays to launch a product would be the difference between a multi billion dollar firm and a failed statistic. Co-location is the magic. HP to Apple to Google were all created by founders toiling days and nights in a garage.
Accelerator Programs
San Francisco Bay Area is more than San Francisco city. In fact, the movement of startups to the city has been a more recent phenomenon. Most of the accelerator programs have been centered around Stanford campus in the San Mateo and Santa Clara counties. We explored why this dynamic exists in Best Place for Technology Jobs is still San Francisco Bay Area
Paul Graham, the founder of YCombinator described the dynamic between SF and SV elegantly.
I do expect the accelerators will continue to maintain their presence in Silicon Valley
Core Engineering Positions
Engineering positions will continue to be aligned with their head quarters. Having worked in large scale technology companies, I can't see a scenario where scrum teams develop critical product features in a remote manner. The Agile ceremonies do not blend with a distributed workforce.
The remote working experiment is successful now because we are drawing on our past working relationships. These are individuals we have worked with before. Hence we can continue working with them virtually. I am sure it would not work as well; if the team had never worked together in the past.
Social Activities Tied To Work
People pursuing Financial Freedom are an elite minority. Most people enjoy working; and in fact have a pretty active social life with their work friends. Also the perks of free food, gym, laundry, notary, etc entice people to spend most of their waking hours at work. My Twitter friends were most concerned about the potential absence of free food when they saw Jack's announcement 🙂
Career Progression Needs Face Time
In my post on How to improve Human Capital and accelerate Financial Freedom; I talk about adding value outside of your team, networking, asking for promotions all as a way to keep increasing your average hourly rate.
In order to advance in your career; visibility is quite important. Working remote all the time will not help you in the long run. I see this cohort continue to work in the office; at least most of the time.
Location, Location, Location
Job is only part of a reason why people live where they do. At the end of the day, everyone wants to stay in a place which satisfies their desires. For some it might be a ski town so they can ski every weekend; others may prefer beach towns.
As they say; in real estate, it is always about location. The San Francisco Bay Area has Yosemite to Muir Woods to Santa Cruz beach to Tahoe all within driving distance.
Limited Inventory
San Francisco city is only 49 square miles. Compared to other cities, there is not much available land to build. Condos have sprung up in certain areas but the stringent building requirements, permits, local zoning, neighborhood opposition results in a high cost to build.
Counties within Silicon Valley also have similar issues with respect to new construction; albeit to a lesser extent.
Foreign Investment
Foreign nationals hold quite a few of the properties on the West Coast; from Vancouver to San Diego. Since they rely on Real Estate to primarily hold their wealth outside their countries borders; they would not sell unless it is a very dire situation. NYC, London, Miami all fall in a similar bucket although the nationalities of foreign owners may vary
Who Are the Real Losers?
There will be some losers in the entire work from home culture. To expect everything to be back to normal would be naive. Most CFOs would have run the numbers and decided on several cost saving measures.
This trend is NOT restricted to only the technology firms or the expensive coastal cities. Even traditional industries like Insurance are taking the plunge with work from home. Nationwide said it plans to permanently transition to a hybrid operating model. The company said it will exit most buildings outside of four main campuses by November 1, 2020 and move associates in these locations to permanent remote-working status.
Non-Core Employees
Any employee working for an organization should ascertain if they are in a profit center department or a cost center department. Lots of people work for tech companies but not in a core function. Eg: Reporting team supporting Sales operations in Google does not need to be in Mountain View.
Make sure you "market" yourself by setting up your own website to showcase your products. Anyone can now create a website for as low as $3.95/month. This is much less than Suze Orman's daily coffee and can help you build authority in the long run.
With the push to move such roles remote; it is imperative you take charge of your own career and market yourself with your own website.
Commercial Real Estate
With the reduced staff now in the Tier 1 cities; companies would not aggressively expand their expensive office footprint. It was so hard for the FAANG firms to expand their campuses and now they might not pursue additional office space in the SF Bay Area.
City and State Budgets
Cities and states count on Income Tax and Sales Tax from the residents. The Commercial Real Estate taxes provide a major source of funding. The drop in commercial rent payments could imperil property tax collections that pay for city services.
Condo Rents
With rents increasing at a nice clip; it might come as a surprise to everyone that rents have fallen approximately 9% YOY in the San Francisco Bay Area.
Most of the drop has been in the condo market. Overbuilding combined with reluctance to live with shared spaces (ventilation, pools, hallways, elevators) in an airborne pandemic has led to vacancies. The work from home with shelter-in-place for 4+ months has many folks craving at least a backyard.
Although San Francisco still leads the nation, there is a downward trend based on the national data by Zumper.
Summary
Based on all the above trends I would temper my expectations with respect to ROI on a rental property. Also would prefer a single family home v/s condo.
Readers, what trends do you see in your local markets with respect to home prices and rents? Do you expect the work from home trend will significantly alter where people choose to live?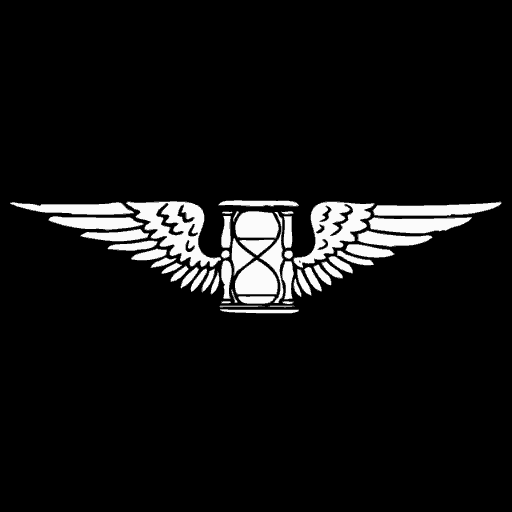 John Dealbreuin came from a third world country to the US with only $1,000 not knowing anyone; guided by an immigrant dream. In 12 years, he achieved his retirement number.
He started Financial Freedom Countdown to help everyone think differently about their financial challenges and live their best lives. John resides in the San Francisco Bay Area enjoying nature trails and weight training.
Here are his recommended tools
M1 Finance: John compared M1 Finance against Vanguard, Schwab, Fidelity, Wealthfront and Betterment to find the perfect investment platform. He uses it due to zero fees, very low minimums, automated investment with automatic rebalancing. The pre-built asset allocations and fractional shares helps one get started right away.
Personal Capital: This is a free tool John uses to track his net worth on a regular basis and as a retirement planner. It also alerts him wrt hidden fees and has a budget tracker included.
Credit Karma partners with Equifax and TransUnion and offers free credit reports and free credit scores updated weekly. It also provides alerts when it detects unusual activity on your credit files. Monitoring your credit report for errors can save you thousands.
Streitwise is available for accredited and non-accredited investors. They have one of the lowest fees and high "skin in the game," with over $5M of capital invested by founders in the deals. It is also open to foreign/non-USA investor. Minimum investment is $5,000.
Platforms like Yieldstreet provide investment options in art, structured notes, supply chain financing, etc. They also have fixed-income portfolios spread across multiple asset classes with a single investment with low minimums of $2,500.