How to Avoid the Challenge of Deprivation in Pursuit of Financial Freedom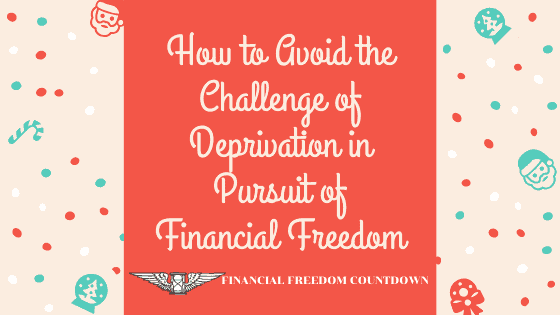 As the holiday season approaches; you will see several articles in the Personal Finance community virtue signaling that they did not buy anything for Black Friday or during the Holiday Season.
Don't deprive yourself
Financial Freedom should not mean deprivation. In fact, Financial Freedom means you should feel free to spend as long as it is done intentionally and you know that the purchase will lead to far greater enjoyment in the years to come. Avoid the challenge of deprivation in the pursuit of Financial Freedom.
By this time, hopefully all of your stock/bond investments are automated on a free platform like M1 Finance. You can read my M1Finance review and how I do automatic rebalancing; so that you do not even need to think about it. If you do not already have this in place, stop and sign up for M1Finance right away.
Financial Freedom does not mean skipping coffee nor does it involve spending a lot of money to enjoy simple pleasures in life. As with everything in life, balance is the better approach. In fact, some of my best memories are times spent playing board games or a local road trip.
In fact, here is a thread on Reddit, extolling the virtues of Buy Nothing Day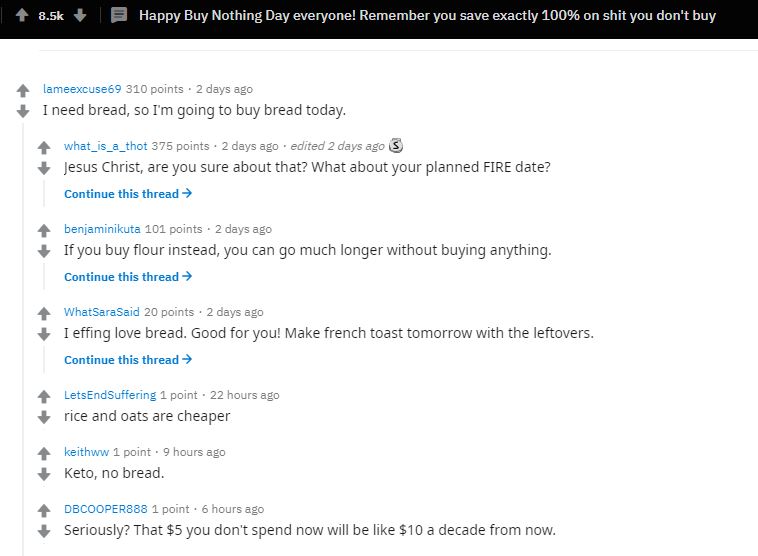 Some of the responses are troll comments; but I would not be surprised if most of them were serious.
Consequences of extreme frugality
While writing about Financial Freedom, I am always reminded of this Reddit post where an individual described how he lost the love of his life in the crazy pursuit of FI (Financial Independence). He ignored the simple needs of his partner. His post is gut wrenching to read
I should be clear, it's because I obsessed over FI and ignored my life goals.

Together for 7 years, living together for most of it. She was perfect for me and was also very frugal. I had it all.

I read the stickied post. "Find the live you want to live and save for it", or whatever it's called. But I didn't take it to heart. I thought I was doing this. I didn't understand. I was so wrong. I was blind. I was living the life I wanted to but I was ignoring the life that my partner wanted.

I didn't spend money with her to do the things she really valued. I didn't buy plane tickets to go visit her family with her when she desperately wanted me to come. My whole life I said I wanted kids and then discovered FI and changed my mind because they were too expensive. I refused to buy nicer furniture for our apartment and made her embarrassed about our place and not comfortable in her own home. Over and over I made this mistake and we drifted apart. She wasn't asking for much, just for things she really valued. She is frugal. I was selfish. And I lost sight of the fact I always wanted kids.

I realize this all now but it's too late. I told her all of this but it's too late. Don't be me. Examine every facet of your life and think about it. I regret it all.

FI ruined my life, but it's my fault, not FIs fault. It was my obsession. So here's my advice. Focus on the life you want to live, but compromise with your partner too because I'd trade all the money in my bank for that relationship back. And once you are in the boring middle, get off this sub and go out and focus on what makes you and your family happy today.

Don't be me. Don't get obsessed. Live in the present.

Edit: thanks all for the well wishes. Unfortunately it's too little too late. My words are just words to her. Which I understand, I mean, actions speak and words don't. I take away from this a valuable life lesson and hopefully will be a better partner to my next partner. Harsh lessons lead to the best results. I laid my heart out for her and explained how I know what I did wrong and how I was going to fix it. Too little too late.

I made this post to help people and put things in perspective which I think I did. I'm glad I was able to remind people that it's ok to spend money on the things that make your partner happy.

And my FI is delayed actually because she made a great salary and we shared many expenses. Horribly ironic!
It is great that the individual shared his story as a lesson for us to not lose sight of the meaning and purpose of Financial Freedom. The goal should always be to live an abundant and purposeful life; not constrained by financial challenges. If money is a constraint here are some ideas for a romantic date night at home on a budget. Or if you have space in your budget take a trip to Hawaii with kids. You will never regret building memories
In fact, deciding to be frugal can end up costing you more money over the long term. Often, it is better to pay more and chose quality over quantity.
Don't let money drive your life. Learn to appreciate the people around you.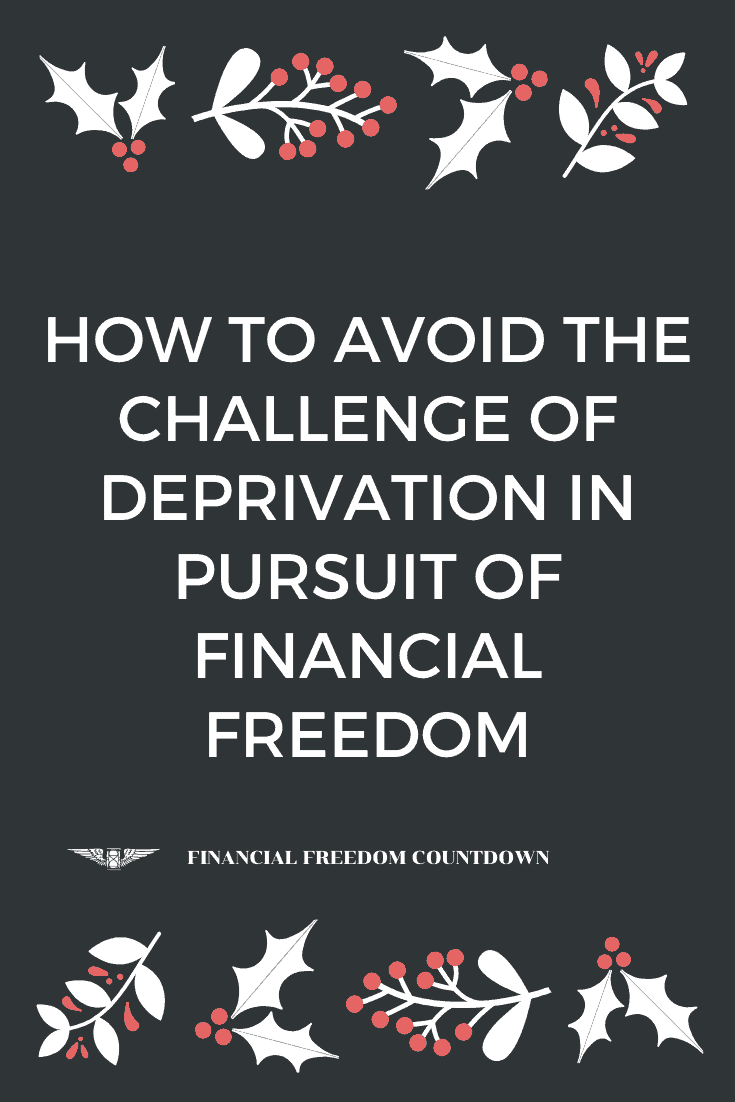 As we begin the Holiday season in the US; let us take a moment to pause and acknowledge all the great things we have going for us, including the people in our lives.  Let us ensure we are aware of the needs of everyone around us; and not rush towards Financial Freedom on our own. [bctt tweet="Countdown to Financial Freedom is not a race; and it is better to make sure we bring along others on this journey." username="FFCsocial"]
My Shopping List
Here are the items on my list for this holiday season.
Apple Watch: While my iPhone is great to track most activities; the Apple Watch now has many features to track every fitness goal. And I am curious about the ECG app. Researchers at Stanford University completed a study where the Apple Watch could detect abnormal heart rhythms.
Instapot: This one has been on my list for a while. It is supposed to make cooking at home easier. While I do enjoy dining in restaurants; the food is often not great from a health perspective. Given that this one device has options for several dishes; I am hoping I can cook meals without a lot of effort and time.
iPad: This is more of a gift for my Dad since he likes to read. I was considering a Kindle. Although my Dad doesn't use a lot of technological gadgets; I am hoping the other apps on the iPad might make it easier to draw him into the digital and social media world.
LEGO Classic: I am sure my nephew would love this and might spark his creative engineering instincts 🙂
Sectional Sofa Couch: And this L shaped convertible sectional Sofa Couch for my house. I spend most of my waking hours on the couch reading; so why not make myself comfortable.
As a kid I always loved reading. No wonder I like reading and compiling lists such as early retirement books or beginner books on investing Here are few more on my reading list for the holidays
The Man Who Solved the Market: This is one of the rare accounts inside Renaissance Technologies and the brilliance of Jim Simons. He is the greatest money maker in modern financial history. No other investor–Warren Buffett, Peter Lynch, Ray Dalio, Steve Cohen, or George Soros–can touch his record. Since 1988, Renaissance's signature Medallion fund has generated average annual returns of 66%.
Narrative Economics: Robert Shiller talks about how popular stories will drive economic narratives.
The Ride of a Lifetime: Bob Iger and the fascinating story of how he went from ABC to Disney including all the successful mergers and acquisitions. Also hoping there are details on decision to enter the streaming arena with Disney+
Readers, what is on your list and how are you planning to spend time with your loved ones over the Holiday season?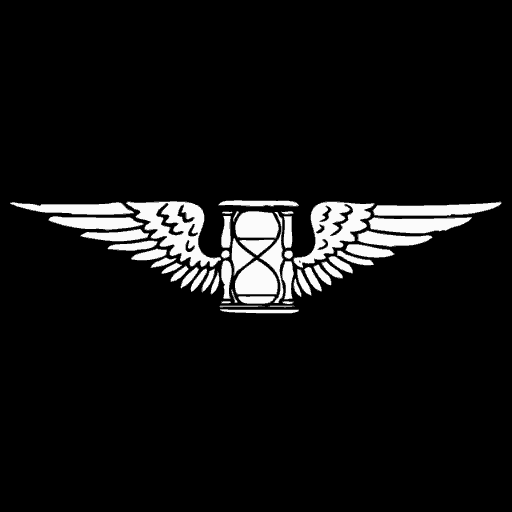 John Dealbreuin came from a third world country to the US with only $1,000 not knowing anyone; guided by an immigrant dream. In 12 years, he achieved his retirement number.
He started Financial Freedom Countdown to help everyone think differently about their financial challenges and live their best lives. John resides in the San Francisco Bay Area enjoying nature trails and weight training.
Here are his recommended tools
M1 Finance: John compared M1 Finance against Vanguard, Schwab, Fidelity, Wealthfront and Betterment to find the perfect investment platform. He uses it due to zero fees, very low minimums, automated investment with automatic rebalancing. The pre-built asset allocations and fractional shares helps one get started right away.
Personal Capital: This is a free tool John uses to track his net worth on a regular basis and as a retirement planner. It also alerts him wrt hidden fees and has a budget tracker included.
Credit Karma partners with Equifax and TransUnion and offers free credit reports and free credit scores updated weekly. It also provides alerts when it detects unusual activity on your credit files. Monitoring your credit report for errors can save you thousands.
Streitwise is available for accredited and non-accredited investors. They have one of the lowest fees and high "skin in the game," with over $5M of capital invested by founders in the deals. It is also open to foreign/non-USA investor. Minimum investment is $5,000.
Platforms like Yieldstreet provide investment options in art, structured notes, supply chain financing, etc. They also have fixed-income portfolios spread across multiple asset classes with a single investment with low minimums of $2,500.