What Is a Turnkey Property and Should You Buy One To Invest in Real Estate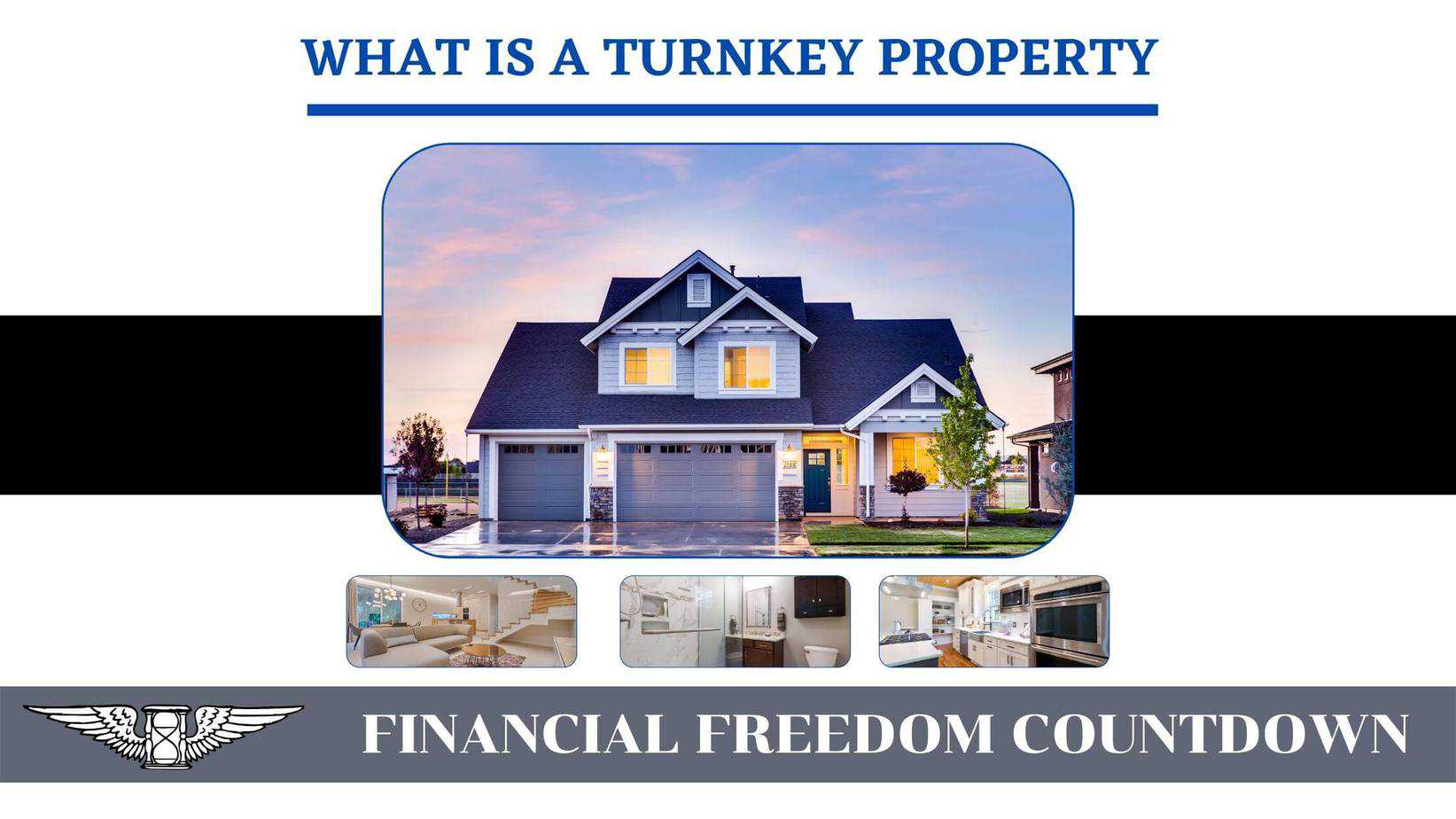 Very few assets have stood the test of time, especially in raging inflationary environments.
Investing in real estate is an excellent option for a steady income and building generational wealth. Still, for individuals living in a high cost of living area, the local rental property is expensive.
Also, even if the numbers pan out for a cash-flowing rental, owning and managing a rental property can be a lot of work. There's never enough time in the day between finding quality tenants, collecting rent, fixing things when they break and doing all the paperwork.
A turnkey property could be the solution to your woes. With a turnkey property, you get all the benefits of owning a rental property without hassle. But what are the disadvantages of a turnkey company, and how do you find a good one?
What Is a Turnkey Property?
A turnkey property is a structure like a home, duplex, or apartment that an investor can purchase and is ready to rent immediately.
When an investor buys a turnkey home, they don't have to refurbish it before it is ready to rent out. It is ready to rent immediately. Turn key companies handle all renovations, so investors do not have to deal with the construction mess and costs. Turnkey companies specialize in real estate restoration.
Most of the attention and television shows focus on the fixer-upper real estate industry, such as flipping properties and wholesaling houses. But not every real estate investor wants to take the time or expense to buy a fixer-upper and go through the BRRRR method. This type of real estate is move-in ready when the investor buys it, and in some cases, the house or apartment building already has tenants.
Investing in turnkey properties provides the potential to start earning income instantly without waiting for the building to be ready for tenants. These properties are also popular with real estate investors that want to invest outside of their local market, known as long-distance real estate investing. With the help of a good property manager, an investor does not have to live in the same city or state where the investment property is located.
Before a turnkey home is listed on the market, the property is repaired, renovated, and remodeled with new appliances. Some companies are buying and repairing properties so they can turn around and sell them as turn key properties. Some of these companies even offer property management services and take on the role of a landlord on the investor's behalf. That is how experienced investors can invest outside of their local area and enjoy remote investing.
Because there is no need for repair and renovation costs, turnkey properties are one of the most popular types of real estate investing, even though turn key homes tend to command a premium price.
Of course, this increases the price of the building since they are in move-in-ready condition before an investor purchases the house. Unless the local housing market is depressed for some reason, or there are a lot of foreclosed properties, do not expect to find a turn key property listed below market value. But they are still an attractive investment whether it is a mixed-used or entirely commercial use.
Advantages of Turnkey Properties
Because the price of a turn key home will cost more than a fixer-upper, an investor should investigate all of the pros and cons of turnkey real estate investing. Besides the advantages of investing in real estate, investors also benefit from
Immediate Income
One of the main advantages of this type of turnkey real estate investing is the place can start producing income immediately. The turnkey company gets the turn key home or property ready for tenants.
And in many cases, there are already paying tenants in place when the investor buys the real estate. That saves time trying to find tenants. The time between purchasing the home and receiving the first income checks is short.
Renovated Property
Turnkey investors do not have to take the time to get down to the nitty-gritty processes of finding plumbers, carpenters, electricians, and other professionals to make all the repairs and renovations since they have already been complete. It will save time and save money.
Property Management
 A good property manager will find tenants, take care of the property, utilize local contractors, and help establish and maintain rapport with the tenants.
Although you are physically away from the area, your property manager can save you time, money, and effort. Make sure you align your goals with your team goals and compensate accordingly based on performance.
Long Distance Investment
Turnkey real estate investors can purchase numerous turnkey properties in various cities and expand their portfolios outside their local market. It is often difficult to find quality real estate deals in our local area, especially in high-cost living areas.
Diversification
Buying properties in different cities is a great way to diversify their real estate investment portfolio and protect investors from local problems. Local problems could include property taxes suddenly going up or if a natural disaster wreaks havoc in that area.
Passive Income
Turnkey property is one of the best ways to earn a passive income. Once investors have a fully-managed turn key property, they can sit back and earn real estate passive income.
The rental income from owning turnkey property protects investors from housing market slumps. Even if property values drop, investors will still be making money from the rents they are collecting. Even if property taxes skyrocket, the owner will still collect the rent. Whatever the conditions are in a specific real estate market, you will still collect rents from a turnkey rental property.
Tenant Quality
If the turnkey property is newly renovated with state-of-the-art appliances, higher-quality renters will want to rent these turnkey homes and apartments. Tenants willing to pay more for high-end properties generally have well-paying six-figure jobs and excellent credit scores. It will never be a problem finding new tenants.
Equity Increase
Another idea is to buy turn key homes in a cheaper real estate market, rent it while waiting for the market to turn around, and sell the key home at a profit. With the trend in remote work, we have noticed that houses in many Tier 3 cities increased rapidly, significantly boosting the average net worth for investors.
Incremental Progress
Turnkey property provides psychological baby steps towards investing in larger ventures such as real estate crowdfunding. Type A landlords who always invest in their backyard and have a difficult time outsourcing any aspect of their real estate journey can use the turnkey experience to judge their comfort factor with letting professionals manage their portfolio.
Disadvantages of Turnkey Properties
There are some disadvantages, but they are not insurmountable. They should be taken into account when deciding whether or not this type of turnkey real estate investment is the right choice.
Overpayment
Investors could overpay for a turnkey property. Turnkey companies often paint rosy projections. Your job as a long-distance investor is to verify these numbers on your own. Ensure that the unit is sold at the right price, rented at the projected market value, and not overcharged for repairs and maintenance.
Expensive Repairs
The additional repair costs, new appliances, and management costs add up quickly. This price difference accounts for all of the work completed to make it a turnkey property. You would make more money with independent properties rehabbed on the investor's own terms.
An investor could quickly find they are not making as much money as they expected if they repaired, maintained, and managed the place themselves. But this is the trade-off of time versus profit. If an investor's time is better spent elsewhere instead of making repairs, the turn key property is worth it.
Reliance On Management
Hiring a bad management company can quickly cut into the cash flow. Property managers don't have any money invested in the home and might not care about it as much as the investor. If the management company runs the place poorly, an investor might soon find his tenants moving. It is not uncommon for a turnkey company to offer property management services.
Inability To Personalize
An investor cannot personalize a turnkey property regarding the turn key property's appearance or appliances. That is not to say that an investor cannot add their touches after buying it.
When investors invest in this type of real estate outside of their local area, they can't check on the house firsthand to make sure everything is running correctly. They could fly to the location once in a while to check up, but that would take extra time and money.
Because turnkey companies are in charge of which properties they choose to update and restore, investors will have less control over the location of a specific house.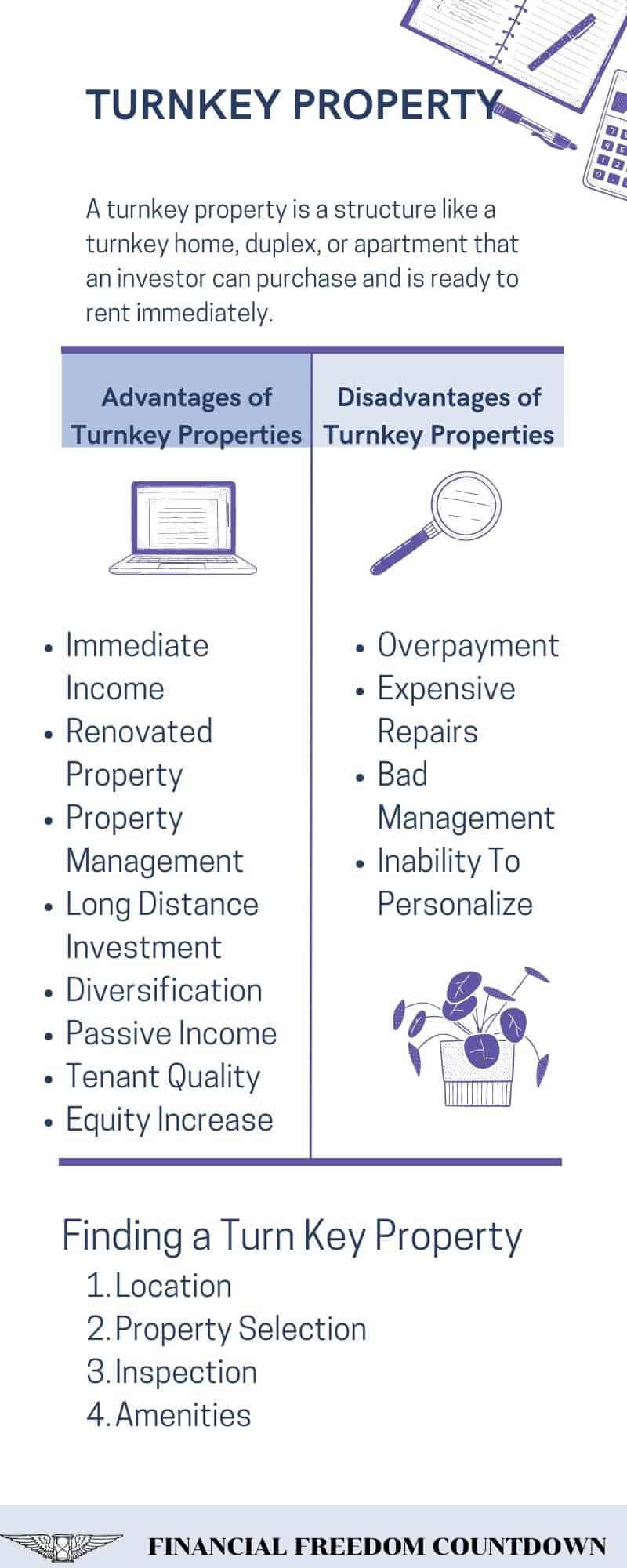 Finding a Turn Key Property
Investors can look to invest in apartment buildings, duplexes, or single-family homes. An apartment building will probably cost the most, but the turnkey rental income is dramatically increased over a duplex or a rental house. Some areas of the country are more profitable than others.
Location
When investors start to do due diligence before buying turn key homes, they will look for the best locations. Historically, this type of real estate does best in areas where the average monthly mortgage payment is less than renting. The investor's profit comes from the difference between what they paid for the property and the going cost for rent.
Look for cities with a growing population. Locations saturated with renter demand and low vacancy rates are the best locations for a turnkey property. You can also sort by best states for real estate investors.
Property Selection
A few more factors for complete due diligence to find the best turnkey properties include:
Looking only for properties that fit a budget will narrow down the search
Looking for locations with low default rates
Considering appreciation of the investment over time and various conditions
Determining the potential cash flow
Finding reliable property management services with a good reputation
To be considered a real turnkey property, it must be ready for immediate usability. It should be able to be rented the day it is bought. Renovated does not mean defects are covered up with new paint. Not only does a turn key property have to look great, it has to be structurally sound underneath the surface with all major repairs completed.
Inspection
The turnkey should be inspected. Make sure everything is up to code. Being up to code can mean electrically and is meeting building codes concerning handicap ready. Make sure the heating and cooling system works properly.
If an investor is going to buy a turn key home out of the local area, they should make sure to either inspect the property themselves or have someone they trust travel to the property and check it. In addition to this, the property needs to be inspected professionally, and the inspector sends you the inspection report.
Amenities
Besides the turnkey rental house or rental apartment building being completely renovated, it should also have amenities that potential renters are looking for. Investors should look for modern appliances and conveniences for which renters won't mind paying a little extra. Renters look for the same excellent amenities as homebuyers do.
Some popular features are energy-efficient windows and doors, stainless steel kitchen appliances, quality landscaping, privacy fences for yards, good lighting, and hardwood floors or quality carpeting.
Finding a Turnkey Company
Once investors know what type of property they want and what to look for, they need to find a legitimate turnkey company. That is especially true for out-of-state investors. Some not-so-legitimate turnkey companies have taken advantage of investors buying out of their area or their first turnkey real estate investment.
Investors can use online search engines to research a turnkey company and possibly speak to their clients. Gathering as much information as possible is crucial to buying this type of real estate. When looking at real estate listings, some might claim to be turnkey homes to entice buyers, but they are not move-in ready.
Once an investor is ready to buy a turnkey property, it is time to get the financing in order. Unless the investor can make an all-cash offer, they will need to find a mortgage lender. The loan will depend on what the investor is buying. If they are financing several rental properties at once, a higher down payment will need to be budgeted.
Getting a mortgage pre-approval before searching will help narrow the search for the right turnkey property. The pre-approved mortgage will also make an investor's offer appealing to the turnkey company. It will also show them you are fully capable of making the mortgage payments.
Roofstock
is an online marketplace for tenant-occupied single-family homes—many of which are pre-inspected, come with a tenant in place, and are generating cash flow. Some even offer vacancy protection or a 30-day money-back guarantee.
With third-party financing options available, you can efficiently acquire tenant-occupied property and request a referral to a vetted property management company. Or you can instead hire a buyer's agent, pay for your inspection, search for financing, and maintain the property on your own.
Final Thoughts on Turnkey Property
Real estate is one of the best income-producing asset. Data from the St. Louis Fed shows the dramatic increase in owners' equity in real estate over several decades.
The apparent appeal of a turnkey property is a rental property that investors can buy that is ready to rent immediately. They are appropriately refurbished, renovated, and updated before being sold to an investor. Turnkey properties include rental properties like houses, duplexes, and apartments.
The advantage of this investment strategy is that they provide rental income immediately. An investor doesn't have to take the time and money to renovate the real estate beforehand. Turnkey property are one of the popular investments for monthly income.
Another advantage is investors can find and buy a rental property outside their local area. Purchasing rental properties in different locations is an excellent way to diversify their other investment properties and holdings.
Buying and owning a rental property is a worthy investment. But this requires buying properties that need to be remodeled and fixed up. These fixer-uppers can be purchased cheaper than other similar homes or apartments, depending on if it's a buyer's market or a seller's market.
But the cost of remodeling these properties can be high, especially if the investor will not do any of the work themselves. Turnkey properties take the renovation worries out of buying a rental property. Turn key companies roll this remodeling cost into the final cost of the investment properties.
Property management is essential to the success of the investment. If the property manager manages it poorly, investors could find their tenants leaving instead of renewing their lease.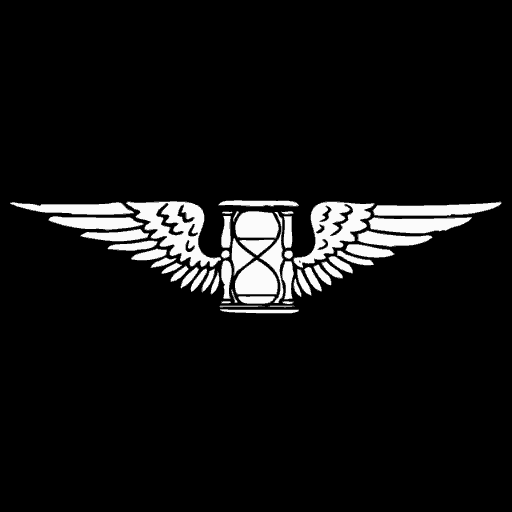 John Dealbreuin came from a third world country to the US with only $1,000 not knowing anyone; guided by an immigrant dream. In 12 years, he achieved his retirement number.
He started Financial Freedom Countdown to help everyone think differently about their financial challenges and live their best lives. John resides in the San Francisco Bay Area enjoying nature trails and weight training.
Here are his recommended tools
M1 Finance: John compared M1 Finance against Vanguard, Schwab, Fidelity, Wealthfront and Betterment to find the perfect investment platform. He uses it due to zero fees, very low minimums, automated investment with automatic rebalancing. The pre-built asset allocations and fractional shares helps one get started right away.
Personal Capital: This is a free tool John uses to track his net worth on a regular basis and as a retirement planner. It also alerts him wrt hidden fees and has a budget tracker included.
Streitwise is available for accredited and non-accredited investors. They have one of the lowest fees and high "skin in the game," with over $5M of capital invested by founders in the deals. It is also open to foreign/non-USA investor. Minimum investment is $5,000.
Platforms like Yieldstreet provide investment options in art, legal, structured notes, venture capital, etc. They also have fixed-income portfolios spread across multiple asset classes with a single investment with low minimums of $10,000.