16 Investments for Monthly Income: How To Generate a Steady Stream of Cash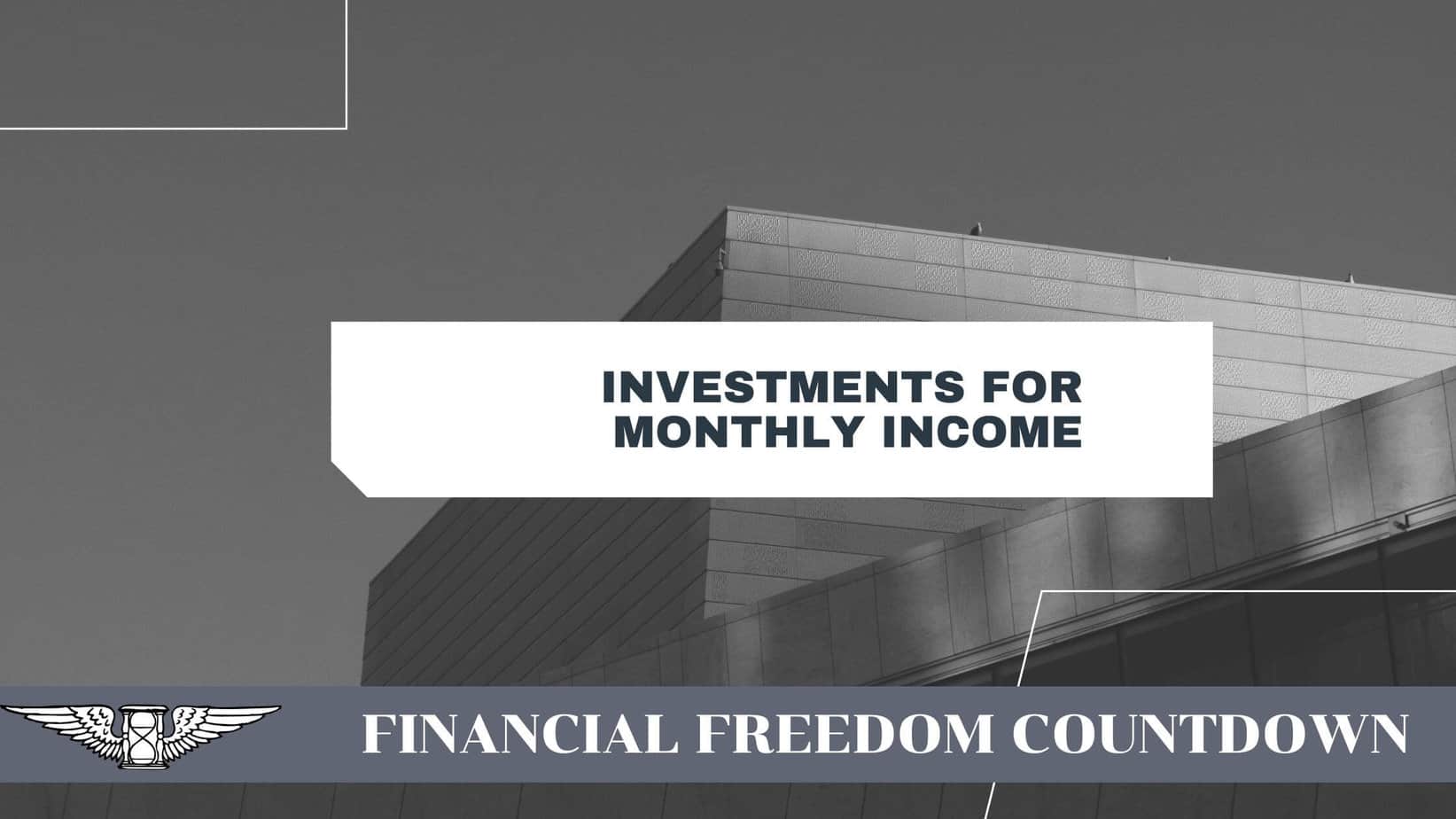 It is the dream of every investor to get access to investment accounts that pay regularly. One of the most brilliant things you can do for your financial security is investing your money into income-producing assets that will provide a steady cash flow month after month, year after year. There are many different investments for monthly income, and today we will explore a few of them. So whether you're just learning how to invest money or looking for new investment opportunities, read on for some ideas on creating a monthly income stream!
Dividend Stocks
Dividend-paying stocks have been the cornerstone of individuals searching for investments for monthly income.
Most dividend stocks have dividends paid quarterly. However, some dividend stocks can provide you with monthly income.
If you are interested in purchasing a monthly dividend stock, you'll have to check the dividend payment schedule. Dividend stocks only pay monthly if it is expressly noted on the information page about a stock.
Why would a dividend stock pay monthly? The answer typically has more to do with increasing a stock's attractiveness. Some companies prefer the stability that occurs with monthly dividend payments, noting that these funds can provide for more budget stability if they pay their stocks out in such a manner.
Furthermore, by paying monthly dividends, they can increase the attractiveness of these dividend-paying stocks and encourage other investors to purchase them.
If you are going to invest in a stock that provides a monthly dividend payment, make sure that you confirm that the stock is sustainable, can afford to pay its dividend every month, and has a solid history of steadily paying its dividend and increasing payments over time.
Another option is to build a portfolio of several dividend-paying stocks. Some of the stocks in your portfolio will pay in one month and others will pay in the other months. A portfolio of several dividend-paying stocks can be an excellent investment for monthly passive income.
Remember, this specific asset class is not legally required to pay its dividend. That means that a company could, in theory, stop paying its dividend at any time. Of course, doing so would devastate their stock price, so this is only likely to happen if the company is in real financial trouble.
As such, the best thing you can do here is to ensure that the monthly dividend stock you want to invest in is on solid financial footing. One option is sticking to stocks with a steady history of increasing dividend payments, such as Dividend Aristocrats.
Public Real Estate Investment Trust
Real estate investment trusts or REITs own, operate, or finance income-producing real estate across many property sectors. Since REITs are supposed to distribute 90% of their income as dividends, most REITs provide a higher dividend than other companies.
Real estate investment trusts are high cash flow businesses that collect rental income. REITs are organized to provide certain tax advantages for the owners and operators of these stocks.
REITs are one of popular investments that pay monthly income generated from rental properties without ever having to worry about the stress of actually owning or maintaining one of these properties.
However, it is essential to recognize that all REITs are not created the same, and you may want to consider which type of REIT to invest in if this is a place where you decide to invest your money.
Different REITs operate in different locations and across different types of property. This can ultimately significantly impact the kind of dividends they can offer, their long-term financial stability, and their exposure to volatility and other market swings.
In other words: If you are going to invest in a REIT, get a good understanding of its background and if the monthly income it offers is something you can rely on.
Private Real Estate Investment Trust
Besides REITs traded on stock exchanges, private REITs are also available to investors. Some of the most accessible ones are crowdfunded investments for non-accredited investors.
The advantage of private REITs is the ability to invest in specific real estate market sectors where one may not have the expertise. Private REITs can be tailored towards investing in apartment buildings, mobile home investing, self-storage investing, and several niche areas.
Government Bonds & Corporate Bonds
Bonds are investments where investors lend money to governments or corporations to earn passive income. Government bonds tend to have relatively stable, low-interest rates, and while these rates can fluctuate, they aren't part of a high-risk portfolio.
Of course, government bonds can allow you to still gain on your investments while diversifying your overall portfolio. They have a place in virtually every portfolio, although the passive income from government bonds is relatively low.
Fortunately, with some legwork, you can find bonds that will provide you with a monthly passive income stream. Due to the high inflation, government I-Bonds offer decent returns currently. One drawback of I-Bonds is that the interest and principal are paid when you cash the bond.
Corporate bonds pay higher rates compared to government bonds since risk and reward are related. However, some corporate bonds tend to be relatively safe, provided the bond has a solid rating. Corporations will typically use the money raised on the bond market to fund heavy-duty operations, including investing in commercial real estate, large equipment, or other assets that will last the corporation for decades.
Here's the good news: Generally speaking, most people who buy corporate bonds do so in the hopes of earning monthly interest payments similar to most fixed-income investments. You do have to examine a bond's prospectus and information before making such a purchase, as some bonds do not pay regular monthly income, opting instead to pay quarterly dividends.
High Yield Savings Accounts
Very few people interested in making monthly income don't have a savings account. Savings accounts, of course, are highly liquid and accessible places to store your money. Many savings accounts do not offer high-interest rates, although this is starting to change.
Savings accounts may not be the best place to earn a healthy interest rate on your money, and the inflation rate is usually more than the interest rate that such high-yield savings accounts will provide. Fortunately, that appears to be turning around. Interest rates are rising.
Furthermore, individuals interested in earning a steady stream of passive income from a savings account may want to check out high-yield savings accounts. A high-yield savings account is a savings account that is highly liquid and has virtually no risk associated with it as long as you stay within FDIC insurance limits.
The bank's interest rates are set and usually more significant than those of a regular savings account. The interest rate here is more extensive than when compared to a traditional savings account, often reaching as high as 25 times the interest rate of regular savings accounts.
You should check with your bank to see if they offer such a savings account. These accounts may have challenging financial goals, like needing to make a monthly deposit or having a higher overall balance. However, they can be excellent places to park your emergency fund and ensure that you maintain the principle and earn some income on the investments.
Finally, remember that a high-yield savings account is not the only type of savings account that is available to you. You may also reap the financial benefits of a money market account, which can produce added interest and function as a high-yield savings account. While not quite as liquid as a savings account (transfers may be more difficult), a money market account can still be very beneficial for your financial position.
Certificates of Deposit
A Certificate of Deposit is a low-risk method of earning monthly income. They operate similarly to a savings account: You'll invest in a Certificate of Deposit for a targeted period. If the CD is structured correctly, you will receive monthly investment income.
Here's how it works: First, you'll connect with a bank that offers a Certificate of Deposit. You'll pay attention to two particular aspects of this CD: The interest rate and the term. Let's say you invest at an interest rate of 5% for a term of two years. The interest will compound over this period. You'll get your investment principle back at the end of the two years.
Some CDs do not have penalties if you need to withdraw your money early, but most do. This means that these investments are not particularly liquid, as you may lose interest if you need to access the entire fund before the CD fully matures. However, if structured right, you can get the interest paid monthly. CDs usually don't have particularly high-interest rates, as they are typically regarded as relatively safe investments.
The good news about that safety is that FDIC will secure your investment. CDs are backed by the FDIC, meaning that the principal of your investment will be protected, up to $250,000. CDs are one of the safest ways to invest income and be guaranteed a return.
Actively Managed Mutual funds and ETFs
A mutual fund is a specific type of investment asset class. When structured properly, it can provide you with monthly passive income.
This type of financial instrument will aggregate a variety of different asset classes. You can buy mutual funds that consist of many kinds of stocks, bonds, or other mutual funds. Buying a share in a mutual fund is similar to buying any other stock. The fund prices will go up and down, and you can buy and sell a share with very similar levels of flexibility.
Unlike other passive funds, like index exchange-traded funds, mutual funds are professionally managed. Fund managers and other financial professionals personally curate funds, spending time working with others to ensure that the fund is balanced to meet the goals of the investors.
It is important to remember that different funds will have different financial goals, including providing growth vs. income investing options. If you are interested in drawing monthly payments from a fund, you should seek a fund offering such income.
Many funds are structured this way. These funds are often viewed as safer investments because of their inherent diversification. Professional managers should, in theory, be able to help invested individuals manage their risk and still earn a profit.
However, this professional management isn't free and comes at a price: Administration fees. These fees come off the top of any profit earned by a fund and go directly to the people who manage the fund. Different fee structures operate differently, so it is worth checking out how much you will lose on administering such funds.
The dividend income that a fund like this provides can be substantial. However, you'll need to figure out what to do with this monthly investment income. Yes, many funds do provide dividend income. However, these funds' monthly investment income is often automatically reinvested into purchasing additional fund shares.
In many cases, this is an excellent way to grow your investment, increase your dividend income, and ensure that you are taking advantage of a growth fund. However, depending on your financial situation, you may be interested in taking that money out of the fund and using it for your purposes.
Passive Index Funds and ETFs
A passive index fund or exchange-traded fund helps beginners learn how to start investing in stocks and potentially allows them to generate monthly income.
Passive exchange-traded funds are somewhat similar to mutual funds. You can buy and sell them on the stock market or a secondary market. This makes it a type of pooled security. Like mutual funds, ETFs are various funds that have been pooled together. One can organize them around an industry, asset class, location, or more.
Individuals interested in generating monthly income from exchange-traded funds can easily find an ETF that will generate income in this way.
Management is the most significant difference between a passive index fund and an active mutual fund. An investment professional will monitor the fund for performance and balance, swapping out assets on an as-needed basis to ensure that the fund performs correctly and meets investor goals.
Passive ETFs and funds have no such manager. Professionals create passive index funds, but from there, it is typically left entirely alone. One thing that makes index funds so cheap is their lack of active management. It means that investors have to keep an eye on the fund's performance on their own and adjust their portfolios accordingly.
One can generate dividends from passive ETFs, resulting in monthly passive income. 
Like active mutual funds, index ETFs allow for a wide swath of diversification while still meeting your investing goals. You can choose what type of ETF to invest in, including ETFs that provide regular dividends. This makes them ideal for income generation.
At the same time, there are typically meager expenses, no commissions to worry about, and the chance to focus on your chosen industries. ETFs can also provide easier access to the stock market: Unlike active mutual funds, you can buy an ETF any time of the day or year.
However, they are not without their challenges. Yes, the expense commission on index ETFs is low, but this still comes at a real price. For example, let's say that an ETF is doing well, save for one stock struggling and dragging the price of the entire index fund down. No one will be able to see this issue and swap the stock out. As such, an ETF will still suffer.
Furthermore, no one monitors changes that may be needed for an ETF to increase its performance. As such, while you may be able to use ETFs to generate monthly income, you'll still have real worries in the long term about the performance of the fund.
Fortunately, there is a happy medium. Actively managed ETFs may help you generate monthly income, benefit from this passive investment, and keep your expenses lower than what they are with a mutual fund.
Over an extended period, the performance of active funds over passive ETFs is not promising. Active funds rarely outperform passive index funds after fees are considered, with some notable exceptions, such as the Medallion Fund.
Individuals might be better served investing in the S&P 500 or other diversified passive index funds providing opportunities for both income and growth with low fees.
Real Estate Investing
Real estate investors often find that there are plenty of ways that they can draw regular monthly income, including rental income. Indeed, this is one of the many potential benefits when comparing real estate vs. stocks.
The process behind real estate investing can be simple or complicated, depending on the specific investment vehicle that you choose. For example, you can buy a home, fix it up, and turn it into a rental property using the live-in flip method, more commonly known as the BRRRR strategy.
Evaluating a rental property and managing it can be highly complicated, time-consuming, and expensive. This helps explain why many who are not experts in this field will find alternative ways of generating passive real estate income. Becoming a real estate investor is not for the faint-hearted, and rental properties can often cost more than they generate.
That being said, if you do it right, real estate investing can be highly lucrative. A real estate property is likely to appreciate in value over the time of your investment. This means that you can not only turn it into an income-generating rental property but that the investment will grow in value, and when you sell it, you can make a potentially substantial profit.
You can also use the money you pay for a mortgage on a rental property for equity, allowing you to pull equity out of the house with a cash-out refinance and make large purchases later.
Finally, there are many tax advantages to owning additional real estate, particularly if you have a good accountant who can show you the right structure for this investment. The IRS does provide substantial tax breaks such as depreciation, 1031 exchanges, QBI for rental property, etc., which give an unfair advantage to real estate.
Lately, the real estate market has exploded with a secondary possibility that provides a nice alternative to owning a home and using it as a rental: Owning a home and using it as an Airbnb rental allows you to generate income on a more frequent basis than a monthly one. It works much the same: You own the home and list it on the Airbnb market. Renters will then use your home for family stays, vacations, or more.
Airbnb can be highly lucrative, generating income on a basis that can be more frequent than monthly. Of course, you have to meet AirBnB's quality standards when renting the property out. You will also have to ensure that these types of short-term rentals comply with local laws. This can be a little more of a balance, as many local government units have begun to crack down on AirBnBs, citing the problems they create for local neighborhoods.
It is also worth noting that owning real estate can help you generate monthly income and diversify your portfolio. They are certainly not as conservative or passive as traditional savings accounts, but they are also very different than stock market investing, as real estate often doesn't move in the same direction as the overall stock market.
Real estate can provide you with a nice diversification in your portfolio and a hedge against inflation. Even a single-family property is likely to have a relatively high average yield, provided you put the right mechanisms in place to collect rent and get high-quality tenants.
Turnkey Property
Investing in real estate is an excellent option for a steady income. Still, for individuals living in a high cost of living area, the local rental property can be expensive.
Also, even if the numbers pan out for a cash-flowing rental, owning and managing a rental property can be a lot of work. There's never enough time in the day between finding quality tenants, collecting rent, fixing things when they break, and doing all the paperwork.
A turnkey property is an excellent solution for individuals who want to invest in real estate but do not have the time or expertise. Or maybe they do not live in one of the best states for real estate investors and do not want to deal with long-distance real estate investing.
When an investor buys a turnkey home, they don't have to refurbish it before it is ready to rent out. It is ready to rent immediately. Turn key companies handle all renovations, so investors do not have to deal with the construction mess and costs.
Investing in turnkey properties provides the potential to start earning monthly income instantly without waiting for the building to be ready for tenants.
The disadvantage of turkey property over directly owning and managing the rental property is the management costs and the possibility of lower monthly income.
Real Estate Crowdfunding
Technology has helped to drive a new proliferation of real estate crowdfunding websites and a variety of platforms that make it easy for prospective investors to earn money from real estate investments without owning a rental property.
All real estate crowdfunding websites work a little differently, but they have the same basic operating procedure.
First, a buyer will put their potential investment on a website, explaining what the project is, how much money they need, and how long it will take before they can pay back their investors. Other investors who are interested in making money will then invest in the project.
Loan rates will be determined by the overall credibility of the buyer, with more credible buyers paying less interest to investors. From there, an investor will return the money to the borrowers generating monthly income.
To be clear, this is one of the riskier ways of potentially generating monthly income. If someone turns to a real estate crowdfunding website, it may be because they are having trouble accessing traditional finances, which may be for perfectly understandable reasons. However, if a project is solid, it can be ideal for general reliable monthly income for investors.
This type of funding can make an excellent addition to your portfolio, and the interest payments may be substantial. Furthermore, the best real estate crowdfunding websites allow you to spread the risk by investing in multiple projects, not just one. This way, if one project crashes, you'll still be able to get money back from a variety of other ones.
These websites usually have extremely small minimums. As such, you can invest a very low amount of money and start to draw returns, enabling you to play in the real estate market – and potentially draw a monthly minimum – with very low investments.
The general partner of the real estate syndication deal will be responsible for raising the real estate project capital and performing value-added improvements to improve the cap rate.
If you want to invest in equity crowdfunding websites, make sure to balance the risk vs. reward. While they are great investments for generating monthly income, it might be possible that you could lose some of your principal in some assets. Learn how to evaluate a real estate crowdfunding deal to reduce your risks.
Real Estate Note Investing
Investors need to balance the risk when comparing real estate equity vs. debt investments.
Real estate note investing involves purchasing mortgage notes to make money from interest payments. Performing notes are a fantastic method to diversify your portfolio and earn passive monthly income with little risk.
Real estate note investing involves a lien against a property. Real estate investment risks do exist. But in case of non-payment, you have the option to foreclose and recover your money, and hence is considered low risk.
Farmland Investing
Farmland investing has a long history of producing stable returns. The returns are due to increasing farmland values and the profit from the cash crops.
No one is making more land. As the population keeps increasing, we need to build more houses and acquire more land for transportation, shopping, etc., reducing the amount of farmland available.
Also, with the increased global population, demand for food rises, making the existing shrinking supply of farmland more valuable. Data from the Bureau of Economic Analysis and the USDA indicates an upward trend for farm real estate's nominal value.
Crops grown on farmland are sold for profit. The income produced by farmland investing can be considered similar to rent. Gross farm income reflects the total value of agricultural output plus Government farm program payments. The U.S. gross cash farm income is at the highest level since 2015.
As per the USDA, the inflation-adjusted net farm income is forecast to increase 41.3 percent, to $119.6 billion. Inflation-adjusted farm production expenses are projected to decrease by about 2.7 percent. Combining reduced costs with increased income provides a greater return on investment.
Although farmland does not provide monthly income, one can set the quarterly or annual income aside in your budget template for monthly living expenses.
As per the SEC, only individuals meeting the accredited investor qualifications can invest in crowdfunded farmland projects.
Businesses Income
One of the most common paths to becoming a billionaire is starting your own business. No matter the effort you put into improving your human capital, there is a limit to the income your job can generate.
You can de-risk the business by starting it as a side gig utilizing some of your high-income skills.
Online business is the best due to the risk/reward ratio. The low cost of starting an online business and the opportunity for passive income make it an ideal diversified income source. Besides, you can avail of several tax exemptions and live in a low-cost country/state to make it even more profitable.
Given the digital economy, more and more of our world will be moving online. Automated tools make it easy to start a website in 10 minutes with zero computer programing skills.
Setting up a website or blog is considered active in the initial phase because you need to produce content. But, the internet provides infinite leverage in terms of audience. The content created once can be sold repeatedly, with no extra cost.
In contrast with a physical business, you have ongoing manufacturing costs to generate extra sales. Also, the one-time effort to create content pays off in the long run. You no longer need to create new content. Marketing the already created content will result in a passive income stream for the future.
A website like the one you are currently reading generates income via affiliate sales and display ads. Read examples of how Edward and Betty started a website in 10 minutes and wrote about topics related to their day job and hobbies, generating monthly income.
Pick a niche you are interested in, and creating content should not be hard. Many websites generate money by reviewing TV shows, home improvement, or travel locations.
Small Businesses Investment
If you do not want to create your own business, investing in small businesses can be one of the investments for monthly income. Small businesses are the lifeblood of the U.S. economy.
With the potential to earn between 10% and 20%, these investment opportunities come with more risk and higher returns. They are worth adding to your portfolio only if you can handle the extra risk.
Alternative Investments
Alternative investments are assets outside the standard world of financial practice and encompass everything from private equity to commodities to cryptocurrency to art, legal settlements to marine financing, and more. 
The term is extensive by design, including a wide array of financial instruments. There is always some form of alternative investment that is becoming increasingly popular. Many people will rush into a perceived safe haven in times of declining markets. 
Although alternative investments hold great potential, there are huge risks due to the lack of regulation and oversight in these markets. The second challenge is the lack of accessibility since alternative investments are usually traded on private markets and reserved for hedge fund investors.
Pros and Cons of Investments for Monthly Income
Here are some of the pros and cons of various investments that provide monthly income.
Best Investments for Monthly Income
The best investments for monthly income depending on your risk profile, time, knowledge, and unique circumstances. Evaluate every investment depending on the anticipated risk and volatility, anticipated return, liquidity (how easy it is to sell and get our money back), passive nature, and availability (can anyone buy it).
It is best to diversify and invest in several investments for monthly income to reduce risk, following the principles of asset allocation and asset location.
Summary of Investments for Monthly Income
Making suitable investments to produce monthly income can be critical to your long-term financial future, like saving for a goal or making retirement income. Investments that pay monthly income can get you there if you are building generational wealth or figuring out how to FI.
There are a few things that you should note when making investments in income-generating instruments that will pay you monthly.
First, remember that you're still going to pay taxes on any investment income you generate, including dividends. You'll need to consult with an accountant to minimize your overall tax burden.
While there are certain tax advantages to an investment that produces a monthly income, this is not to say that you will be able to coast to an early fat FIRE retirement…at least, not right away. With time and discipline, you may be able to do just that, but remember, it takes both of those personality traits to move the needle to gain on your financial goals ultimately. Do not expect to invest $100 and make $1000 a day.
Third, remember that there are potential opportunity costs to an investment that pay monthly dividends only. On the one hand, you may lose access to more reliable or better-paying quarterly dividend stocks or other investment instruments. On the other hand, dividend stocks do not typically offer the same opportunity for long-term growth as other growth stocks. As such, you may ultimately lose money or limit yourself to volatile investments that don't serve your other important financial goals.
Last, remember that some of these monthly investments often have unexpected costs. Take real estate investing. Real estate investing can be highly lucrative, have tax advantages, and help your bottom line. However, an investment in real estate may tie up your investment options, as you'll have to always keep a certain amount of cash on hand to manage any potential problems with your property.
Additionally, you may need outside experts, like a property management firm, who have the expertise and experience you may lack. As such, an investment in real estate may ultimately increase your costs and limit your net profit.
Stock market investing and managing a brokerage account can be highly complicated, mainly if you are relatively new to investing or don't understand the best way to invest. That's why many investors prefer to speak with a financial planning expert before making financial decisions that will allow them to earn monthly income.
Indeed, investments that pay monthly income can resolve your how to retire early and live a financially comfortable life question.
As such, do your homework before finding the best way to make a monthly income from investments. Ensure that you are spending your money in the most productive way possible, investing in assets that pay monthly income steadily and reliably.