House Hacking: Learn How To Live for Free in Your House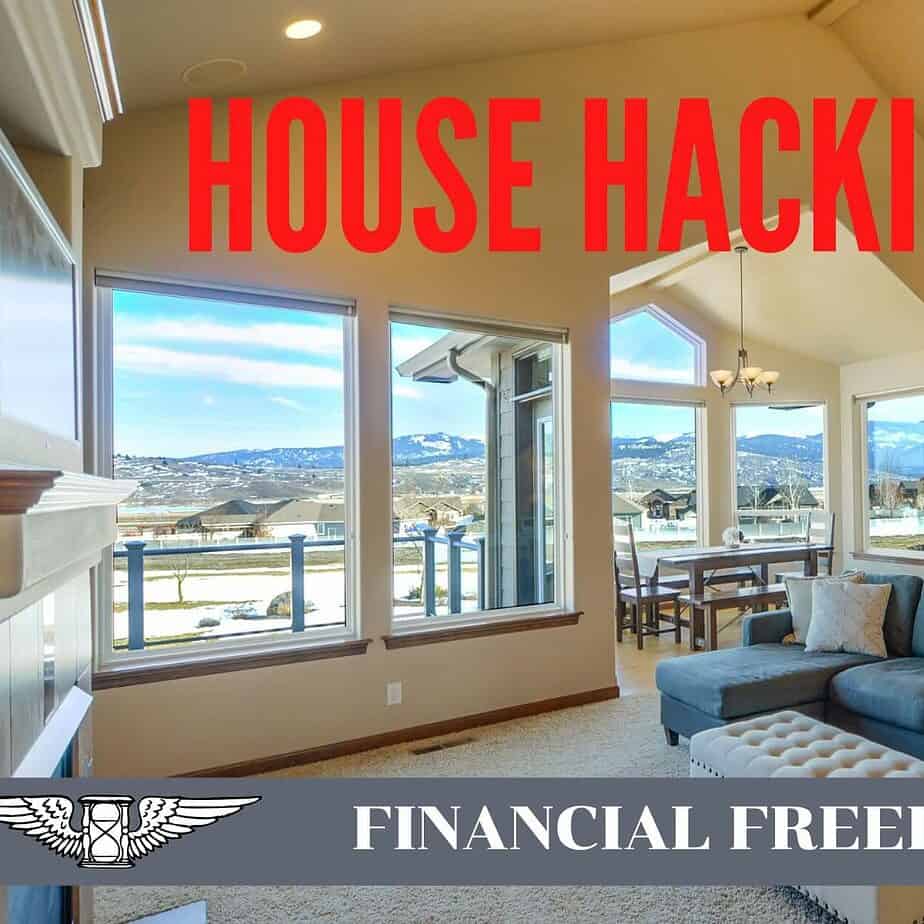 Most Americans' most significant contributor to their average net worth is their house. However, we do not include our primary residence in our liquid net worth since your place does not produce any income. House hacking helps us create income from our house while we still live there. We will discuss some of the pros and cons of house hacking with real numbers and how to get started.
What Is House Hacking
House hacking means turning your house into an income-producing asset and using it for revenue-generation purposes. It is also a way to start real estate investing using little to no money down.
House hacking can be done with your primary residence, although there are also ways to use house hacking that extend beyond just turning a house into a rental. By living in a property you own (or are in the process of buying), you can live for free while also earning rental income.
One of the most common ways to house hack is to buy a multifamily property with four units or fewer. The reason for the limit on the number of units is based on the financing eligibility matrix by Fannie Mae. The government-backed forms of residential loans make it easier for millions of Americans to obtain a mortgage.
The number of units is the most critical difference between residential vs. commercial real estate investing. A commercial loan is typically more challenging than residential real estate.
Another approach to house hacking involves turning a home into a multifamily property. It can mean dividing a single-family dwelling into multiple units, like converting a three-story home into three different apartments. One person – the landlord – can live on one floor and then rent out the other two floors.
Changes in technology, marketing, and local laws have allowed house hacking to thrive more than just converting the property into a rental home. You can use the money you generate from house hacking to make your monthly mortgage payments, pay off housing expenses, build equity in your home or even create generational wealth.
That being said, you must remember that many housing hacking methods – like turning your home into a multifamily property or even renting out certain rooms – can have real repercussions on the property.
Verify your ability to obtain Federal Housing Administration (FHA) and VA loans for the location, determine the inspections you have to get for the property and set aside the taxes you need to pay for any money you make. In many cases, this is well worth it.
However, house hacking isn't something you can do casually: You have to consider all the benefits and potential challenges that come with it.
Benefits of House Hacking
Affordable Mortgage Payments
House hacking is a strategy that allows you to live in your investment property while renting out rooms or units. Doing so can offset a portion of your living expenses and potentially live for free or close to it. With the current high-interest rates, house hacking helps solve the financial aspect of the monthly mortgage payment.
Build Equity
House hacking can provide an excellent opportunity to build equity and create long-term wealth. For example, let's say you purchase a duplex for $200,000. You then move into one unit and rent out the other. After paying your mortgage, taxes, and insurance, you can bring in $1,000 per month in rental income. This extra income covers your living expenses and allows you to put extra money towards your mortgage each month. As a result, you can build equity in your property much faster than if you were renting an apartment.
Better Financing Terms
FHA loans only require a 3.5% down payment as opposed to the standard 25% required for landlords' investment properties, making it easier for those who house hack to get better financing terms.
Learn Real Estate Investing
In addition, house hacking can be a great way to learn about real estate investing and gain experience as a landlord. No matter how many books on real estate investing you read or watch house flipping shows, it is always scary to take the plunge.
If you're considering investing in real estate, house hacking is a great way to get started. By living on-site, you'll be able to keep a close eye on your investment and ensure it is well-maintained. Tenants will also take better care of your property, knowing the landlord lives there.
Acting as your own property manager will expose you to various expenses involved with being a landlord. It will help hone your skills in evaluating a rental property.
Gradually, you will be comfortable investing in more significant deals, whether apartment investing or real estate syndication.
For greater portfolio diversification, you can consider real estate crowdfunding deals or long-distance investing. Your experience would be instrumental in developing your checklist for evaluating crowding deals.
For all these reasons, house hacking is an attractive option for many real estate investors.
Cons of House Hacking
While house hacking can be a great way to save money on rent and live in a desirable location, there are also some disadvantages.
Lack of Privacy
One downside is that you will likely have less privacy than if you lived in your place. House hacking often means sharing common areas with roommates or renters, which can be challenging if you're used to having your own space.
Work Involved
Additionally, house hacking can be a lot of work. You'll be responsible for maintaining the property, dealing with repairs, and managing tenants. You will pick up some high-income skills.
If you are not ready to handle these tasks, there may be better choices than house hacking for you.
REITs could be an option for passive real estate income. 
Fundrise lets you passively invest in real estate for as low as $10.
Risk of Loss
Finally, it's important to remember that house hacking is an investment strategy. While it can lead to financial rewards down the road, there is always the risk of losing money if the market turns or your tenants damage the property.
Investing during a recession is challenging.
Build a buffer when calculating the projected vital return on investment (ROI) metrics, such as net operating income, cash-on-cash return, cash flow, and cap rate.
Before taking the plunge into house hacking, weigh all the pros and cons to see if it's right for you.
How To Get Started With House Hacking
House hacking has changed the nature of real estate investing. However, it would help if you approached house hacking strategically and effectively, like almost anything related to your money and financial future. If done right and in consultation with experts, you can turn this entire process into a highly profitable one, allowing you to unlock the potential of an investment property, increase your cash flow, and meet housing expenses. A house-hacking property can significantly boost your long-term financial future if you approach it correctly.
By living in one unit of a multi-unit property, investors can significantly reduce their monthly expenses while still building equity. But how does one get started with house hacking? While it may seem daunting at first, there are a few simple steps that any aspiring investor can take.
Research Strategies
First, it's essential to do your research. There are a variety of house hacking strategies, and not all of them will be a good fit for every investor. Take some time to learn about the different options and determine which makes the most sense for your situation.
You can house hack with a room in your house. Or, for greater privacy, build an accessory dwelling unit (ADU), also known as an in-law units or granny flat. Several counties permit garage apartments as well to save on construction costs. California has a formal ADU policy with published ordinances for all cities.
Network
Next, start networking. The real estate industry is all about relationships, so meeting other investors and getting connected is crucial. Attend local meetups or join an online forum to start meeting people and learning from those who have already been successful with house hacking
Networking lets you meet contractors who can provide quotes for converting your home into a multifamily property. Loan agents can guide you on cash-out refinancing if you need money to renovate your property before house hacking.
Perhaps more critical than any other step in this part of the house hack preparation is finding a real estate agent who knows the area, understands local laws, and can help guide your desire to invest in property. Such an agent can give you critical advice and feedback. They can also open up their referral agency to you, enabling you to find other contractors who can assist you in your experience.
You can also work with an experienced insurance agent to ensure you get the right coverage and engage in appropriate risk-reduction activities. Insurance agents specializing in rentals and other house hacks can give you excellent advice and ensure that you take the necessary steps to protect yourself.
If you plan on using multiple house hacks, you should be able to use the same team over and over again. In theory, this allows you to save money. You may be able to negotiate a discount with a contractor who you use repeatedly.
Review Your Financing Options
FHA or VA loans may help you buy your primary residence, but things get a little more complicated if you want to use these financing methods to pay for a multifamily home.
Anyone involved in real estate investing knows that you have to develop a series of potential financing options that can allow you to purchase a rental property. As such, consider what financing options may be available to you to renovate or buy a rental property. These options may include the following:
Traditional mortgages or loans.
Other forms of owner-occupied financing
You can rely on money already saved or use a HELOC for a down payment. The HELOC allows you to pull money from a home you already have and deploy that money elsewhere. 
HELOC interest rates are often more flexible than more traditional financing options. Furthermore, you can access a HELOC over the entire loan length, thus ensuring that you always have access to a valuable line of credit.
The financing you select will ultimately depend upon numerous factors, including the market rents that your home can support and the total housing cost.
Many factors can influence the financing that you use. What kind of down payment do you need? What is your cash flow? What is your expected rental income? What kind of monthly mortgage payment can you afford, and what interest rates are offered? If you will rely on more than rental income, what sort of capital reserves do you need if and when times are tough?
Finally – and perhaps most importantly – you will want to consider your financial situation. 
Do you have the credit score to qualify for a good loan?
How about cash reserves?
Can you make a down payment?
What assets do you have at your disposal that you may be able to monetize if you can't otherwise get the loan payment you need to be able to buy a new property?
These are critical questions, and if your own financial house isn't in order, it may be tough to move forward with any house hacking effort.
Building this financial model can be highly complex, and many individuals need help to factor in all the variables independently. As such, consider finding professional expertise that can help you make these critical decisions. A real estate agent or another professional can help you find the help you need.
Select a Property
The next step to house hacking is finding a property that will fit your needs. You'll want to consider the size of the property, the number of bedrooms and bathrooms, and the location. Not all properties are well-suited for house hacking. You'll need to find a large enough property to accommodate tenants but not so large that it will be challenging to manage.
The property's layout is crucial if you want to add walls or bathrooms to subdivide the unit. Also, an oversized lot is preferred, so you can expand your single-family house by adding additional rooms or up to four units, similar to multifamily properties.
A house hack property may have a slew of potential needs. Yes, you can rent rooms, but is it better to divide the property into multiple income streams? Can you rent rooms, storage space, and a swimming pool? How can you maximize the potential revenue from your home to get the most payment from it? It would help if you made these decisions before making real estate investments.
Additionally, it's essential to find a property in a good location with strong rental demand. You could find good real estate deals depending on how much sweat equity you are willing to invest.
Location, Location, Location
Real estate and business both thrive on having the best location possible, and the same is true of house hacking. Critical pieces of location include:
Safety. Simply put, you won't generate a penny of rental income if prospective clients don't believe your neighborhood is safe. You have to spend time analyzing crime reports and making sure that there are not extensive property crimes. Furthermore, you should ensure that any property you invest in has the proper safety equipment, including cameras and alarm systems.
Access to appropriate amenities. If you are using a house hack to attract vacation AirBNB guests, you must ensure that you are near modes of transportation and potential tourist attractions. If you are using a house hack for self-storage purposes, are you near roads, and do you have the infrastructure in your location to ensure that your prospective clients have everything they need?
The middle of nowhere or everywhere? Critical in your location is making sure that your area is suitable. If someone wants self-storage facilities and doesn't care about the site, that's one thing. If someone wants to be in the middle of a vibrant city, your offering has to match. Fundamentally, your location has to be tied to the offering you make.
Conduct Home Inspection
Conducting due diligence is a critical part of any house hack strategy. Buying a property without reviewing it is often a recipe for disaster. You'll need to thoroughly assess any property to ensure there are no maintenance or quality issues.
A home inspection is a requirement when buying a home for investment purposes. It enables you to ensure that the house you buy suits your needs. If flaws or repairs are identified, you'll need to work that into your financial calculations and purchase price.
Consider Property Implications
Finally, thoroughly review the property to determine how to generate the most revenue. There are many potential considerations regarding how you can best use your property to generate revenue.
Single-family homes can be rented on their own or potentially subdivided into rooms. Rooms work better for solo or business travelers, while single-family dwellings may work for families.
If you have a multifamily property, you should be able to divide it into multiple rental units that you can use for various short-term or longer-term rentals.
You can use additional storage space on your property for storage.
Ancillary structures, like a pool or above-garage apartment, can also be monetized.
Depending on the specific scenario you are aiming for, consider renovating your house or property. Of course, you must factor this into any costs and rent charges.
Check Permits and Legal Requirements
Make sure you speak with an attorney and local government to ensure that whatever you do with the property is legal within your local government. Nothing is worse than spending thousands of dollars to realize your plan is illegal.
Some cities might ban short-term rentals. Others might impose parking restrictions based on the number of units on the property. Check appropriate zoning laws if converting a single-family house into a multifamily property.
Consider Tax Implications
Finances are always the most important considerations regarding a house hack. The financial mechanisms you choose to deploy will ultimately determine how much you make on your financial independence journey.
However, remember that there are real tax implications to consider as you expand your real estate empire, regardless of whether you are purchasing your first investment property or your 100th. Make sure you speak with a tax professional to confirm that you are doing everything in your best financial interest. Consider how any house hack, renovations, or purchases will impact your taxes. There are many taxes to consider here, including your personal income tax, capital gains tax, corporate income tax, real estate transfer tax, and so much more.
One of the best tax strategies for house hacking is writing off a portion of the rental income against expenses. But you must maintain detailed records to take advantage of depreciation, cost segregation, and even QBI for rental property.
Secure Financing
Once you've found a property that meets your criteria, you'll need financing. You may be able to use a traditional mortgage, but you may also need to seek out alternative financing options such as a private loan or hard money lending.
Before spending too much on financing, run the numbers and learn how to calculate rental property cash flow.
Prepare Your Team
If you are looking to build a real estate empire or make a little bit of extra money with rental income, you'll need to ensure that you have a ready and knowledgeable team for your house hack needs. This team often consists of legal and financial help, but you'll also need contractors to help you manage any renovations.
It means you'll need capable, skilled, affordable individuals, including electricians, plumbers, general contractors, painters, and much more. You can save money by doing the work independently. However, sometimes, it is more affordable – and less labor-intensive – to hire outside help. Whatever path you take, make sure you do your homework on the contractors. They should be licensed and experienced in whatever renovations you need.
Get Creative
Several real estate investment strategies depend on your unique skills, property, and financing conditions. Feel free to mix and match techniques.
For example, you can use the BRRRR method to live in one unit while rehabbing it and rent the nicer unit for house hacking.
You could use creative financing strategies. An FHA loan with a low 3.5% down payment or a 203K construction loan can help you get started. Or negotiate seller financing if you don't have excellent credit scores to obtain better terms on the purchase price.
One of the pillars of personal finance basics is constantly improving your credit scores.
Credit Karma partners with Equifax and TransUnion and offers free credit reports and free credit scores updated weekly. It also provides alerts when it detects unusual activity on your credit files.
You can also sign up with Transunion with a paid subscription for additional monitoring and peace of mind.
Follow the Credit Karma recommendations on improving your credit and thus reducing your debt. 
All of this can help you save money and provide for future growth.
Advertise Your Property
Advertising a property can take a lot of work. It is crucial to find a suitable medium to reach the target audience and create an ad that accurately reflects the property. There are many different ways to advertise a property, and the most effective approach will vary depending on the type of property and the target market.
For example, if the property is a vacation rental, online listings and travel magazines may be the best way to reach potential renters. On the other hand, if it is a long-term rental, local newspapers and rental websites may be more effective.
No matter your approach, it is vital to ensure that the ad accurately represents the property and its amenities. An inaccurate or misleading ad is ineffective and can reflect poorly on the business or individual responsible for the listing.
Find Tenants
The next step is to find tenants. You can use a rental agent or list the property on a rental website. Create a system for screening tenants. One of the most important aspects of being a successful landlord is finding quality tenants who will pay their rent on time and take good care of your property. Be sure to put together a thorough screening process, including credit checks, references, and background checks.
A background review before renting any apartment to a tenant is also necessary when engaging in any house hack: You must make sure that the tenant will treat your property respectfully, obey all local laws, and pay on time. The level of review depends on your risk tolerance.
Short-term rentals demand less consideration than longer-term ones, and if you use a third-party service, you don't have to worry as much about payment.
However, you'll need to develop your risk management and tenant review procedures if you are going to be able to protect your asset in the long run. Ensure you conduct a basic background check for anyone staying on your property. 
If you are renting storage space, you should ensure that someone only stores safe, legal goods and does not present any hazard to your property.
Managing Tenants
Once you've found some qualified tenants, it's essential to put together a detailed lease agreement outlining the terms of their tenancy. This agreement should include the length of the lease, rent amount, security deposit amount, and any rules or regulations regarding the property.
Get to know your local laws and regulations regarding rentals – there are different rules everywhere!
Once tenants are in place, you'll need to manage the property and resolve any issues.
First-time landlords are often worried about the tenant screening and management process. RentRedi is landlord-tenant software that makes it easy for landlords to manage their properties. RentRedi enables landlords to list properties, screen tenants with TransUnion-certified background checks, receive mobile-submitted rent, and manage maintenance requests.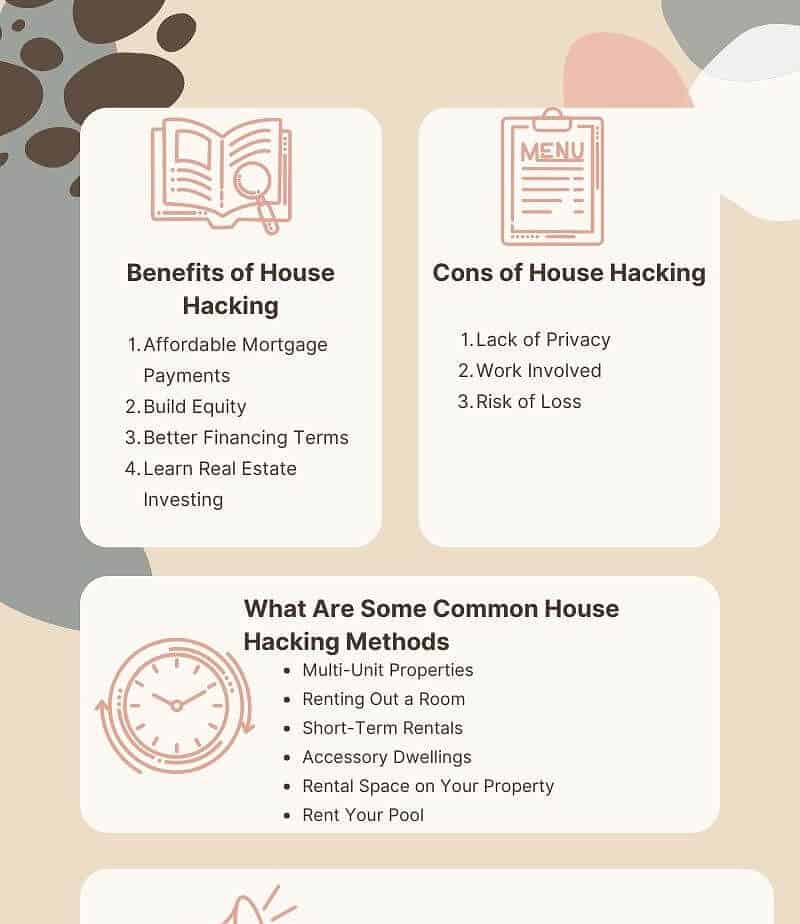 How Much Money Do You Need To Start House Hacking
You can start house hacking with as low as a 3.5% down payment on an FHA loan.
House hacking may sound great – and in many ways, it can be fantastic for generating extra income – but you must remember the potential expenses required as part of any house hacking effort. Yes, your tenants pay for many things, and you can use it to generate positive cash flow and passive income, but expenses exist in this area.
These include:
Insurance: If you operate a multifamily unit, there is no question that you will have to pay more in insurance. You will want to do enough research to determine what insurance requirements you will have to meet. It would help if you also spoke with an insurance professional to find out the way to get the best price on any insurance product.
Legal: Depending on the house hacking method, you'll have to meet specific legal considerations. You may need to draw up contracts and work with your local government to ensure that you adhere to all necessary local laws and regulations.
Marketing: You may have an excellent asset that you can use for house hacking, such as storage space or a pool. However, you may also need to market your property. The costs for marketing may be as small as purchasing a professional camera to upload pictures to an app. For beginners, apps like RentRedi work great. If you have many units, learn how to create a website. You can save the extensive costs involved in designing a website and writing professional copy
Renovations: Depending on your preferred method of house hacking, you may need to renovate your property. It may involve increasing a home's marketability, cosmetic renovations, or security measures to keep it safe and protect your property.
Property management: If you only lease a room for storage, you won't need to worry about hiring a property management firm. However, if you rent multiple bedrooms, create a new basement apartment, or buy a multifamily apartment, you may benefit from a professional property manager. This property manager can handle maintenance needs, deal with emergencies, and collect the rent. Property management is costly but better than managing these needs yourself.
Cash flow needs: Like every other business, you must manage expenses, pay property taxes, and handle your mortgage payments. As such, you'll need to plot your monthly cash flow and ensure you can afford house hacking.
Insurance needs: Any property needs insurance, but a property you are renting out to others may need certain types of insurance. The type of insurance you will need ultimately depends on the use of the property, the level of risk you are willing to assume, and what local and state regulations are. It would help if you spoke with an insurance broker before moving forward. Consider encouraging tenants to get renters insurance for belongings that are not covered. Finally, depending on the size of your down payment, you may need to get Property Mortgage Insurance (PMI). It adds an added expense to your total balance sheet.
House Hacking Example With Numbers
Assume you buy a fourplex with a purchase price of $400,000
Based on the 1% rule, rent for each unit is $1,000. You live in one unit and rent the other three units.
Since the house hack is your primary residence, you can get an FHA loan with only a 3.5% down payment or $14,000.
Assuming a 30-year fixed loan at 7%, the monthly payment (including property taxes, home insurance, and PMI) works out to $3,420
| | |
| --- | --- |
| House Price | $400,000 |
| Down payment (3.5%) | $14,000 |
| Property Tax (monthly) | $416.67 |
| Home Insurance (monthly) | $116.67 |
| PMI (monthly) | $318 |
| Monthly loan repayment (only principal and interest) | $2568 |
| Total monthly mortgage (PITI) | $3,420 |
Acquisition cost details of house hack
Since you are renting the other three units, you only pay $870 out of pocket. Of course, this includes the property management costs, vacancy and maintenance costs.
| | |
| --- | --- |
| Gross monthly rent for 3 units | $3,000 |
| Vacancy (5% assumption) | $150 |
| Property management (none since you will self manage) | $0 |
| Maintenance costs (10% assumption) | $300 |
| Net monthly rent | $2,550 |
Net monthly rent considering expenses in a house hack
Meanwhile, your three tenants are helping pay down your loan, so you are building equity.
The numbers might not look amazing due to the high interest rate. As interest rates come lower, refinancing can significantly lower your monthly payment. Decide if you want a 15 vs. 30-year mortgage.
Also, after the equity in the property (due to loan pay down in a few years or property price appreciation) is above 20%, you can get rid of the PMI further improving your cash flow.
What Are Some Common House Hacking Methods
House hacking comes in many flavors, shapes, and types. The house hacking method you deploy ultimately depends on your skill, real estate experience, and ability to work with a rental property. There is no one-size-fits-all house hack; instead, there are many ways to do it.
Multi-Unit Properties
One of the most common ways to generate revenue is to purchase multi-unit properties or purchase a single-family home and convert that home into a multifamily unit. It requires extensive knowledge of your local real estate market, housing laws, and the availability of rental demand in your market.
Once you have made a purchase, you can rent the home and use the money to make a mortgage payment. You can eventually use the cash generated from these rental properties to buy more homes, thus allowing you to invest in more multifamily properties and avoid traditional financing methods. Real estate investors often pull the equity money out to buy more houses.
Renting Out a Room
Let's say you aren't interested in building a real estate empire. Instead, let's say you are interested in purchasing a home and finding ways to pay your mortgage or save on living expenses. Instead of finding a roommate, you have a single-family home that you can convert into private living space, complete with its own kitchen/kitchenette, as well as separate entrances. In this instance, you can rent out a room in your home.
It requires legwork, investment, and actual knowledge of construction. You may have to get access to financial capital to pull this off. Furthermore, you'll have to speak with lawyers and your local government to ensure that converting your home in this way is possible. You'll also need extensive knowledge of local codes and construction laws. However, this tactic can turn your already-existing asset into a money-maker.
Short-Term Rentals
There was a time when short-term rentals meant placing ads in the newspaper, reaching out to business groups, or maybe using Craigslist. Of course, those days are long gone. You can now hack your home by turning it into a short-term rental and allowing people to stay in it for as short or as long as you'd like. This entire process has been used increasingly by real estate investors to turn a home or apartment – even a single-family house – into a profit center.
Using your home as a short-term rental has become wildly popular, thanks to the advent of businesses like Airbnb and VRBO. These websites allow individuals to rent their homes for business or vacation opportunities. If you are in a highly desirable neighborhood, you can turn your home into a significant profit center.
Of course, this area is not without controversy. Neighbors often push back on short-term rentals in residential neighborhoods, citing concerns over the quality of life, noise, and traffic. Many local governments have begun responding to these issues by placing restrictions on this house hack, making life much more difficult for real estate investors who want to do something with their house besides turning it into a rental property.
If you own a home or are a real estate investor interested in a house hack, short-term rental is one of the most common ways of monetizing your asset. You could even rent out a room on a short-term basis. It may be less desirable than renting out an entire house, but even renting out a room can help you manage your living expenses and make your mortgage payment.
Accessory Dwellings
Some properties are more than just single-family houses or multifamily houses. They may also come with accessory dwellings, like a shed, guest houses, or a mother-in-law's apartment. Depending on the nature of your home ownership and the type of dwelling, you may save money on your property by renting out this dwelling.
As always, you'll have to consider your apartment's particular legal and logistical concerns. Any real estate investment strategies require you to take a holistic view. If you want to rent out accessory dwellings, consider the following:
What homes do you have, and how many do you have?
Are there particular legal, regulatory, or financial concerns that you have to address?
What renovations may you need to make to get your accessory dwelling into a state where you can rent it out?
How may any upgrades you make impact your expenses, such as property taxes or mortgage insurance premiums?
Rental Space on Your Property
Consider this scenario: Say that you have an unoccupied shed on your property. You can have someone pay rent to use that space. They can use it to store equipment, cars, or anything you are legally allowed to keep on a property. In doing so, you can create a landlord-tenant relationship with someone based solely on the things they want to store in your home.
Such a strategy can be a great way to monetize otherwise unused space, but one that avoids the need to allow someone to live in a spare bedroom or garage apartment. There are additional considerations, of course. How will you guarantee someone access to their things whenever they need it? What will the monthly payment be? How will such a rental impact your insurance policy?
Still, if you are interested in using your home to generate passive income, this may be a low-effort way of helping you accomplish your goals.
You can turn unused space in your garage or driveway into an asset without people in your living space.
Sign up for Neighbor and get paid to store things. You can earn $100-$400 per month as passive income with unused space. You get to pick WHO, WHAT, and WHEN items are stored. And the platform comes with $1,000,000 host liability protection.
You list your space for free, review the renter's request (including what and when they want to store), and approve as per your criteria.
You can list a garage, RV pad, closet, empty lot, shed, and basement as available rental space.
Rent Your Pool
Granted, this wasn't even possible a few years ago. However, today, it's legitimately a possibility. If you own a pool of any size or any level of fanciness, you can rent it out and allow others to use it at a time and place of your choosing.
Renting a pool can be done via private negotiations, but it is more likely to occur when someone contacts you via a third-party service, such as Swimply. These third-party services offer significant advantages: In exchange for a fee and a cut of the profit, they cover your pool's marketing and may also provide insurance options.
Swimply can provide you with an excellent opportunity to rent an asset. You can even double-dip. For example, you could rent your home but with the understanding that others may be renting your pool. As such, you'd be monetizing two separate assets and pulling in two different checks!
Is House Hacking Right for You
If you are considering house hacking, you first need to ask yourself this critical question: Why?
Are you just looking to make a quick buck and use that money for another down payment? Can it cover your living expenses for a few months? Or are you looking for something more?
You can understand what housing hacking is, but if you don't know why you want to do it and how it meets your financial goals, you'll have an entirely different set of problems.
House hacking comes with a series of extensive pros and cons
With the increase in mortgage rates, housing has become unaffordable. Many young people question if it is a good time to buy a house now. House hacking is commonly used to generate cash, even with a primary residence. You can then use that money to make your mortgage payment, pay off other housing expenses, or make another purchase of a home.
House hacking can allow you to take empty spaces in your house and use them to generate income. If you genuinely care about the environment, house hacking has a more positive impact than investing in ESG.
House hacking is widespread and getting more so. As our society wants access to more goods and services but with fewer long-term commitments, house hackers have stepped up to meet this challenge and fill a gap. This allows house hacking to be used as a successful real estate investment strategy.
Finally, take action! The best way to learn is by doing, so don't be afraid to dive in and start. Start small if you need to, but the key is just to get started. With some research and a little bit of work, you can be well on your way to success with house hacking.
A house hack done right can significantly benefit your financial future. Make sure you do the work necessary to make your house hack successful!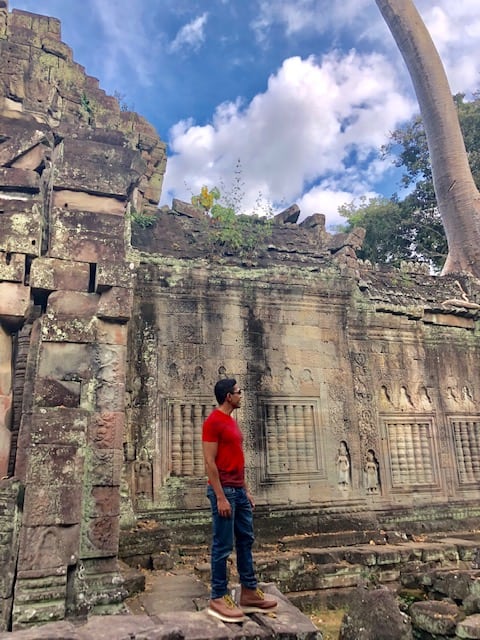 John Dealbreuin came from a third world country to the US with only $1,000 not knowing anyone; guided by an immigrant dream. In 12 years, he achieved his retirement number.
He started Financial Freedom Countdown to help everyone think differently about their financial challenges and live their best lives. John resides in the San Francisco Bay Area enjoying nature trails and weight training.
Here are his recommended tools
M1 Finance: John compared M1 Finance against Vanguard, Schwab, Fidelity, Wealthfront and Betterment to find the perfect investment platform. He uses it due to zero fees, very low minimums, automated investment with automatic rebalancing. The pre-built asset allocations and fractional shares helps one get started right away.
Personal Capital: This is a free tool John uses to track his net worth on a regular basis and as a retirement planner. It also alerts him wrt hidden fees and has a budget tracker included.
Streitwise is available for accredited and non-accredited investors. They have one of the lowest fees and high "skin in the game," with over $5M of capital invested by founders in the deals. It is also open to foreign/non-USA investor. Minimum investment is $5,000.
Platforms like Yieldstreet provide investment options in art, legal, structured notes, venture capital, etc. They also have fixed-income portfolios spread across multiple asset classes with a single investment with low minimums of $10,000.